Daily Fantasy Rankings - How Does it Work?
Daily Fantasy Rankings - How Does it Work?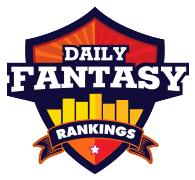 Welcome to Daily Fantasy Rankings!
Much like you, we're passionate players and fans of Daily Fantasy Sports. It's an exciting and emerging industry in Australia and we feel it can continue to evolve into something truly spectacular!
We identified that the Australian DFS community lacked a central location for players and operators to come together and build a base to launch DFS to the next level in this country, and that idea gave birth to Daily Fantasy Rankings.
Through the platform of DFR we can finally bring DFS and Fantasy Betting players from each of the different operators under the one roof where we can exchange ideas, discuss strategies, meet new people, build friendly rivalries, and share in the success of our community.
Once and for all, friends and foes can settle the argument of who is the best DFS player in Australia?
So how does DFR work?
Daily Fantasy Rankings uses a rankings system that has proven itself in other similar industries to be a fair measure of success across different platforms. By assigning a points score to every result, players earn DFR Points which are used to compare against other players to determine an overall ranking. Points are aged over time, and are limited to a maximum number from each site, which means that the same players aren't always going to be on top. To maintain a top ranking requires players to spread their success over a number of different sites and a consistent stream of results. We don't reward the players with the highest volume, and we don't reward those with massive one-off results. You need to prove yourself over time with regular results across multiple sites to become the #1 DFS player in the country!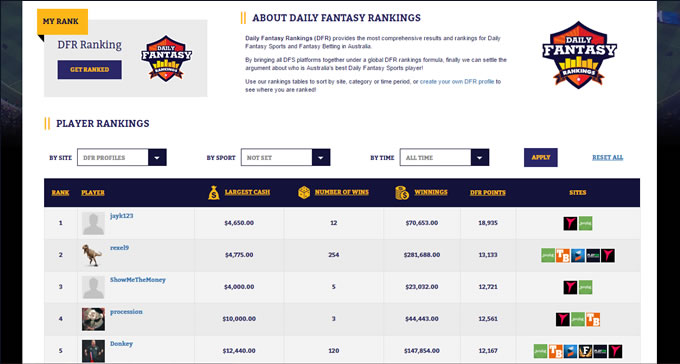 Points Formula
The points formula takes into consideration two factors when determining your DFR Points for a tournament or contest. The two factors are the tournament Prize Pool and your Finishing Position. The actual cash that you received for the result does not come into the equation, but all players who finish in the money in the contest will receive DFR Points.
The DFR Points formula is as follows:
DFR Points = (Prize Pool 0.5 / Place 0.6) x 10
i.e. Prize Pool to the power of 0.5 divided by the Place Finish to the power of 0.6. The result of that is then multiplied by 10.
e.g. A prize pool of $1,000 paying ten places would have the following DFR Points payouts:
1st 316.23
2nd 208.63
3rd 163.58
4th 137.65
5th 120.40
6th 107.92
7th 98.39
8th 90.81
9th 84.62
10th 79.43
Aging of DFR Points
You can only ride that same wave of success for so long! Eventually you need to find some new waves to ride if you don't want to be known as a one-hit wonder!
DFR Points that are used for the purposes of rankings will age over time. So that means, the more recent results will be weighted more heavily towards your overall ranking than older results.
The aging of DFR points will occur as follows:
First 3 months – 100% of the Tournament Points
4th month – 90%
5th month – 80%
6th month – 70%
7th month – 60%
8th month – 50%
9th month – 40%
10th month – 30%
11th month – 20%
12th month – 10%
One year and onwards – 0%
So for the first three months after a tournament result, the DFR Points will count 100% of the Tournament Points. Then each month after that, the DFR Points for that tournament will reduce by 10% of its original value. That means after 12 full months, your result will contribute 0 points towards your ranking!
e.g. If a player wins a tournament on 1st Jan 2019 which is worth 200 Tournament Points. Here's the table of what their DFR Points will be calculated as on each milestone date:
1st Jan 2019 – 200
1st Apr 2019 – 200 * 90% = 180
1st May 2019 – 200 * 80% = 160
1st Jun 2019 – 200 * 70% = 140
1st Jul 2019 – 200 * 60% = 120
1st Aug 2019 – 200 * 50% = 100
1st Sep 2019 – 200 * 40% = 80
1st Oct 2019 – 200 * 30% = 60
1st Nov 2019 – 200 * 20% = 40
1st Dec 2019 – 200 * 10% = 20
1st Jan 2020 - 200 * 0% = 0
The 50/20 Rule
As we mentioned earlier, DFR doesn't necessary reward the player who plays the most volume. It's certainly a case of quality over quantity. The way we achieve fairness for all players is through what we call "The 50/20 Rule".
Basically the way this rule works is as follows. Only the top 50 points results will count towards your overall ranking. So it doesn't matter if you have collected 100 different results or 10,000 results, only your best 50 count will towards your ranking score.
In addition, you can only count a maximum of 20 results from any single site. So if you only play on one site, you can only count your best 20 results from that site, so you're not giving yourself the best chance to be highly ranked.
The smart cookies out there will have figured out that you will need to play on at least three different sites in order to reach the full quota of 50 results (20 from site one, 20 from site two and 10 from site three = 50 results!) So the best way to reach the top of the DFR rankings is to play regularly on multiple DFS sites in order to maximise your potential to satisfy the 50/20 Rule!
What sites do you support?
We're currently working with all of the major DFS sites in Australia to secure data feeds for all of their tournaments to provide a complete and comprehensive rankings system.
Sites that are part of Daily Fantasy Rankings are:
Draftstars
Moneyball
SportChamps
Sites to come soon: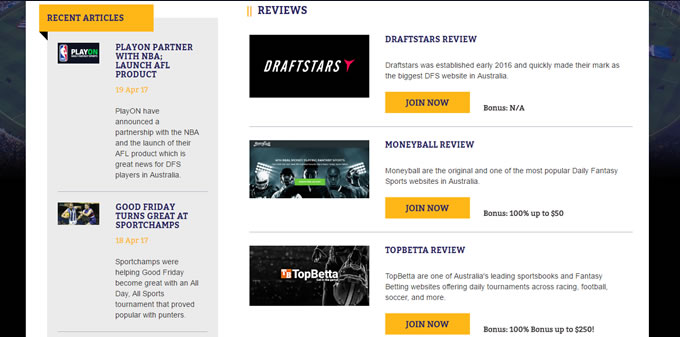 When are results updated?
Data that is imported into the DFR system will be updated live on the site at around midnight Australian Eastern Standard Time each day.
Results for most weekend contests will be uploaded on the Monday following the weekend.
What data is not included in DFR Rankings?
We do not include all tournaments and contests in the data on Daily Fantasy Rankings. The following are not included:
Free to enter tournaments
Jackpot or satellite tournaments
Heads-up, double-up or triple-up tournaments
Private tournaments
Target tournaments
Tournaments that are restricted on entries in any way
Frequently Asked Questions
For more information and the answers to all your questions, please check out our Frequently Asked Questions page.
Want to help?
If you would like to help us collect and collate more data from various operators please get in touch with us on our Contact Us page and let us know how you can assist!