daily fantasy sports articles
NFL 2021-22 Daily Fantasy Tips: Week 3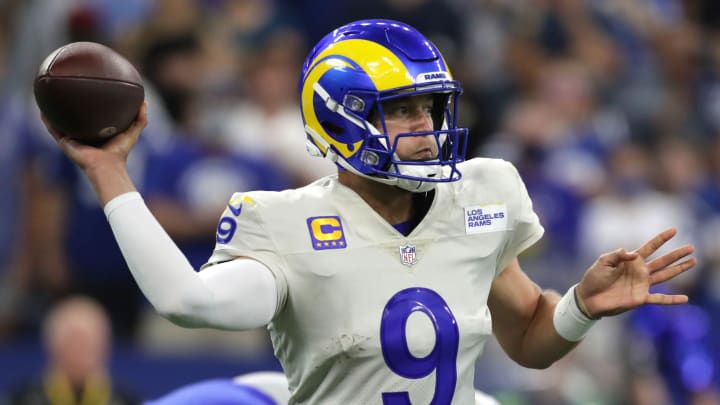 Overview: Let's jump straight into week 3 of the NFL, where we have a little more information to work with, and another 13-game slate to attack. Draftstars has kept the price pool at a very generous $50,000, with $4,935 to first place. As always the Millionaire Maker on DraftKings is also there for the taking!
Make sure you tune in on Sunday from midday as the Draftstars NFL Show will be available on our YouTube page and on Draftstars social platforms! A replay of the show will be in this preview - so tune in for the latest news and Draftstars plays!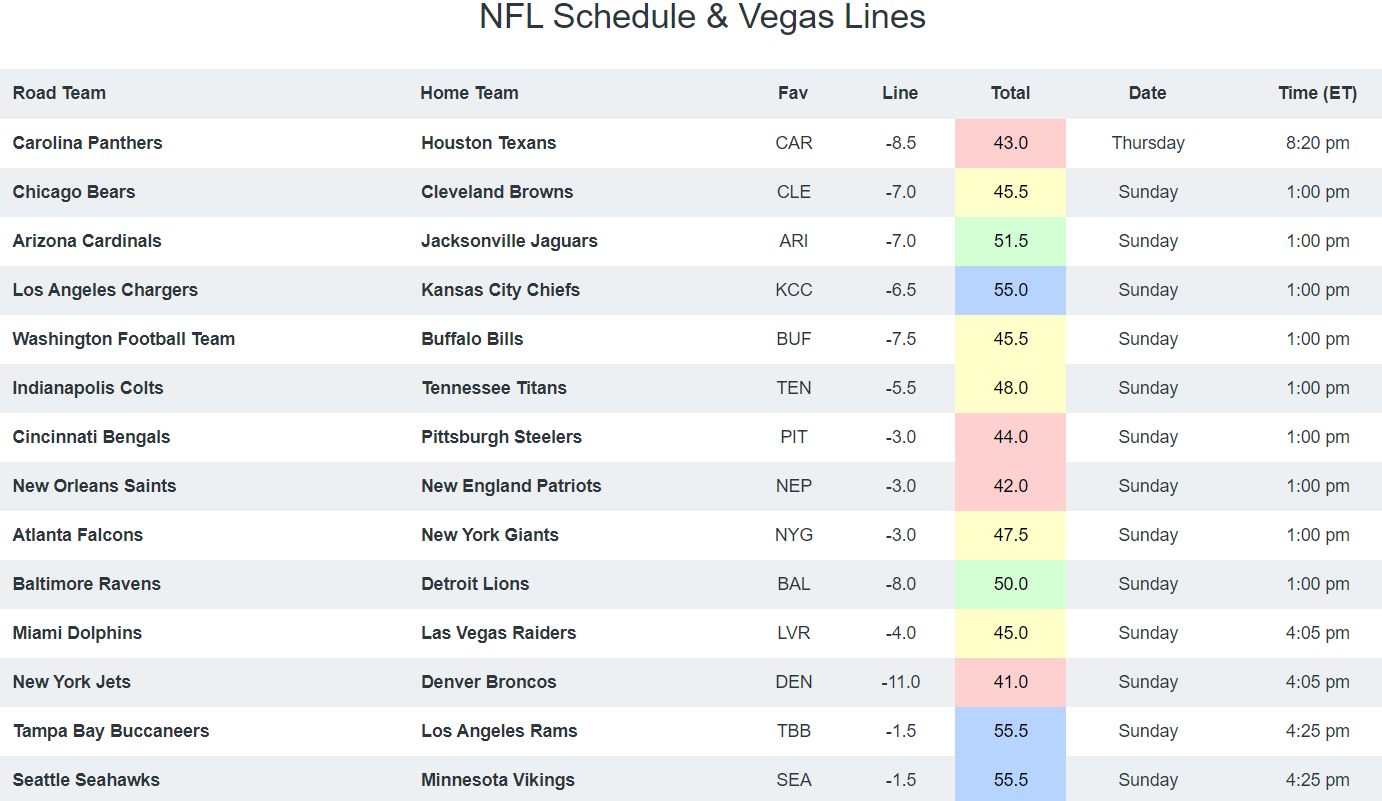 Injuries
OUT
Russell Gage / Andy Dalton / Jarvis Landry / Tua Tagovailoa / Tevin Coleman / Diontae Johnson / Rashaad Penny / Antonio Brown / Anthony Firsker
Doubtful
Tee Higgins / Josh Jacobs / Elijah Mitchell
Questionable
Deandre Hopkins / Marquise Brown / Lamar Jackson / Darnell Mooney / Marquise Goodwin / Kalif Raymond / D'Andre Swift / Carson Wentz / Darrell Henderson / Dalvin Cook / Evan Engram / Kenny Golladay / Jamison Crowder

Quarterback
Lamar Jackson ($15,310 DS $7,800 DK) Despite some injury challenges for the Ravens, Jackson has looked his usual elusive self through the opening couple of weeks. He came up big in running down the high-flying Chiefs in the second half last week, and now he gets a much gentler matchup against the Lions. With a number of other enticing dual-threat QBs at the top of the board, Jackson is just ahead for me as the best fantasy QB over the last couple of seasons.
Matthew Stafford ($12,280 DS $6,400 DK) Right below the top tier of QBs is Stafford, who is very much not a dual threat. Even without the mobility that is so useful in fantasy output, Stafford is thriving at the Rams where he is better protected and has more weapons that he ever saw at the Lions. Throw in better coaching and a strong defence, and it's a great spot for Stafford to reach new heights. The reason I especially like him this week is the matchup with the Buccaneers, who make running almost impossible and force extra passing volume. The cherry on the cake is an injury to running back Darrell Henderson, which only ramps up the need to throw the ball even more. It all sounds good to me.
Patrick Mahomes ($15,180 DS $8,200 DK) The captain obvious choice on this slate is Mahomes, as it often is. Whenever he is healthy and throwing the ball to two of the best weapons in the NFL in Hill & Kelce, Mahomes is in play in any matchup. The trick is finding a way to afford the most expensive stack available. Given that the matchup with the Chargers sets up as one of the highest total games on the slate, it should be well worth finding the extra salary to do so.
Running Back
David Montgomery ($10,790 DS $6,100 DK) The price on Montgomery is a little confusing this week, after seeing 36 touches and 5 targets in the first two weeks, leading to 33 fantasy points. The likely cause is a tough matchup with the Browns, but there is some good news. The injury to QB Andy Dalton means that we're likely to see rookie star Justin Fields starting this week. Fields is a true dual-threat QB, which tends to open up the field for running backs as the defence has to allocate some it's attention to stopping the QB from running all over them. With strong usage and the cheap price, I think Montgomery is a perfectly good option for saving some salary on this slate.
Austin Ekeler ($14,940 DS $7,100 DK) Ekeler gave us plenty of reason for concern in week 1, with a lingering hamstring issue and zero targets in a new-look Chargers offence. Those concerns were somewhat eased in week 2 when he saw a healthy 9 targets and put together 23 points without a touchdown or any bonuses. Now he gets a high-octane game with the Chiefs, who have a reputation for struggling to stop opposition running games. If Ekeler is fully healthy, the slight discount and great matchup is a perfect recipe.
Derrick Henry ($14,990 DS $8,600 DK) I might as well go for three straight weeks on the D-Train, after it paid off in a big way in Week 2. His 50 points might be the best fantasy performance we see all season. This week he gets the Colts, who are struggling with injuries and may be playing with backup Jacob Eason at quarterback. The expectation is that that will lead to a comfortable victory, with Henry asked to pound the ball all day long to run down the clock.
Wide Receiver
K.J. Osborn ($6,400 DS $3,500 DK) One of the more surprising players from the first two weeks, Osborn seems to have emerged as a viable third target in the Vikings passing game. So far that has amounted to 15 targets, 12 receptions, a touchdown, and 35 fantasy points. We can expect that output to settle back to a more realistic level, but in a potential shootout with the Seahawks this week he is still far too cheap based on what we've seen so far.
Tyler Lockett ($15,610 DS $7,400 DK) Lockett is less surprising than Osborn, but in a similar way he's gotten off to an absolute flier that won't be sustainable. We saw a similar fast start last season, before injuries and a breakdown in the teams play style led to a massive drop-off. Until we start to see something similar this season, I'm going to keep investing in Lockett. I also expect teammate D.K. Metcalf to get things moving in the right direction after a slower start.
Cooper Kupp ($14,460 DS $6,800 DK) Yet another established star off to a fast start, but in this case, there are some new circumstances which make me think we might be looking at something more sustainable. The main factor in that is a new (and much better) quarterback in the form of Stafford, who seems to love throwing the ball to Kupp all over the field. That kind of chemistry is hard to beat, and it could be enough to push Kupp towards the top of the WR group on week-to-week basis. The Bucs matchup should lead to plenty of volume, making a Stafford-Kupp stack very attractive.
Tight End
Travis Kelce ($14,220 DS $8,200 DK) If you're playing Mahomes, it's almost compulsory to pair him with Kelce. After reaching new heights in his incredible career last season, things are off to an even faster start this time. In what should be a high-scoring game against the Chargers, Kelce's role as safety-valve and redzone magnet sets him up for yet another massive week. Darren Waller and T.J. Hockenson also make for decent pay up options if you can't quite afford Kelce.
Rob Gronkowski ($8,540 DS $5,500 DK) I'm surprised that Gronk hasn't gotten more expensive after the output and usage that we have seen from him in the first two weeks. Including the Super Bowl, he has now strung together three consecutive games with two touchdowns and is getting consistent targets from Tom Brady once again. It's possible that as the season goes on his age starts to catch up with him, but for now I'm happy to keep targeting Gronkowski until the price catches up to the output.
DST
Denver Broncos ($7,910 DS $4,300 DK) It's not often that the most expensive DST is the most appealing, but everything is lining up in this case. For starters, they are one of the most talented units in the league, and they're playing at home. Next, they're going against the Jets, who are featuring rookie QB Zach Wilson, which has not gone well so far. In week 1 he gave up 12 points to the Panthers DST, and then 19 to the Patriots in Week 2. They might not be expensive enough, but if you want something cheaper I'm also interested in the Falcons against error prone Daniel Jones.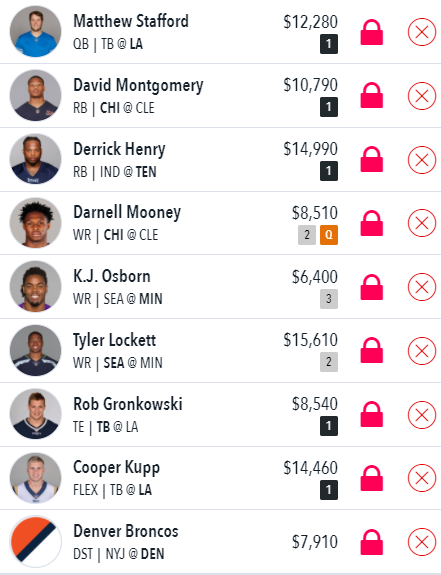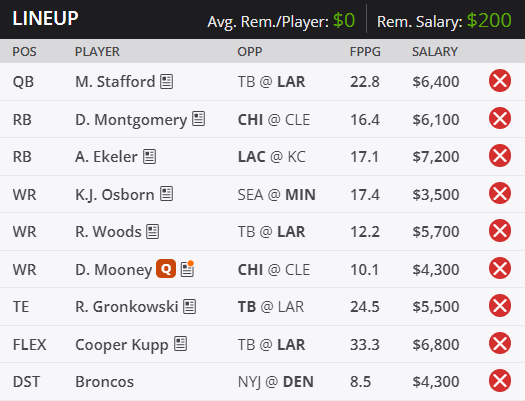 Always remember to gamble responsibly. When the fun stops, stop. If gambling is having a negative impact on your life, seek support at Gambling Help Online. 18+ only.