daily fantasy sports articles
NBA 2019-20 Daily Fantasy Preview Thursday 5th March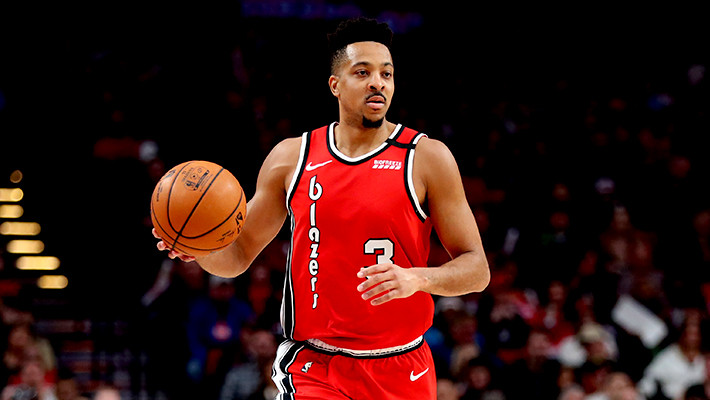 The biggest day of the NBA week is back upon us and NBA Wednesday (Thursday AEST) has delivered us a big 9 game slate to tuck into. The usual major daily fantasy tournaments on offer across the platforms:

GAME BREAKDOWN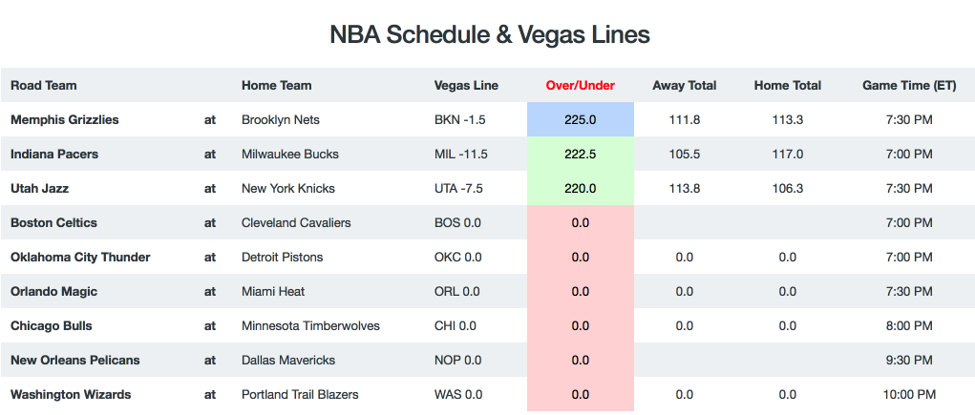 Wow! There is the NBA we all know and love. Just three games with totals currently listed as we await a mountain of injury news. As always, I have broken down the major lineup impacts on daily fantasy below.
The top game total listed is Memphis at Brooklyn at 225 points. It is unlikely this game remains the top total once they are all listed but it is still a juicy game to target for DFS purposes. The Grizzlies are the 7th fastest team in the league this year and have given up the 9th most fantasy points. Meanwhile all year we have been able to target the Nets at the point guard and centre positions, which plays perfectly when rostering the Grizzlies players.

This is where things start looking more attractive as we see a number of teams in huge pace up matchups. The Bulls lead the way as they face everyone's current dream match-up in the Minnesota Timberwolves. Over the past 15 games they have played at the fastest pace in the league, rank dead last in defensive efficiency and have given up the most fantasy points. Navigating the Bulls roster currently is going to be tricky, but exposure in this match-up is an absolute must!
Indiana has the second highest pace up game; however, I will pass on this one against the Bucks who are quite simply a defensive juggernaut. Rather the other game that jumps off the page at me on this slate is Washington at Portland. Both sides are in the top 11 in pace for the season, which means there will be plenty of possessions. Washington all year has been the go-to target as they rank last in defensive efficiency and have conceded the second most fantasy points on the season. Portland is not far behind, sitting 5th is fantasy points given up. I will be stacking this game up every which way.
INJURY NEWS
Kemba Walker is out for the game against Cleveland, while Gordan Hayward also left the game injured today, Jaylen Brown had a hamstring issue and Marcus Smart could be facing a suspension. If Jayson Tatum returns it will be a usage bonanza for him and almost a lock and load play. In addition, there could be unbelievable value on offer if all the Celtics main starters are out. Keep an eye on the news and the starters, but Brad Wanamaker would likely stand out as the player that could gain a significant boost in playing time and usage.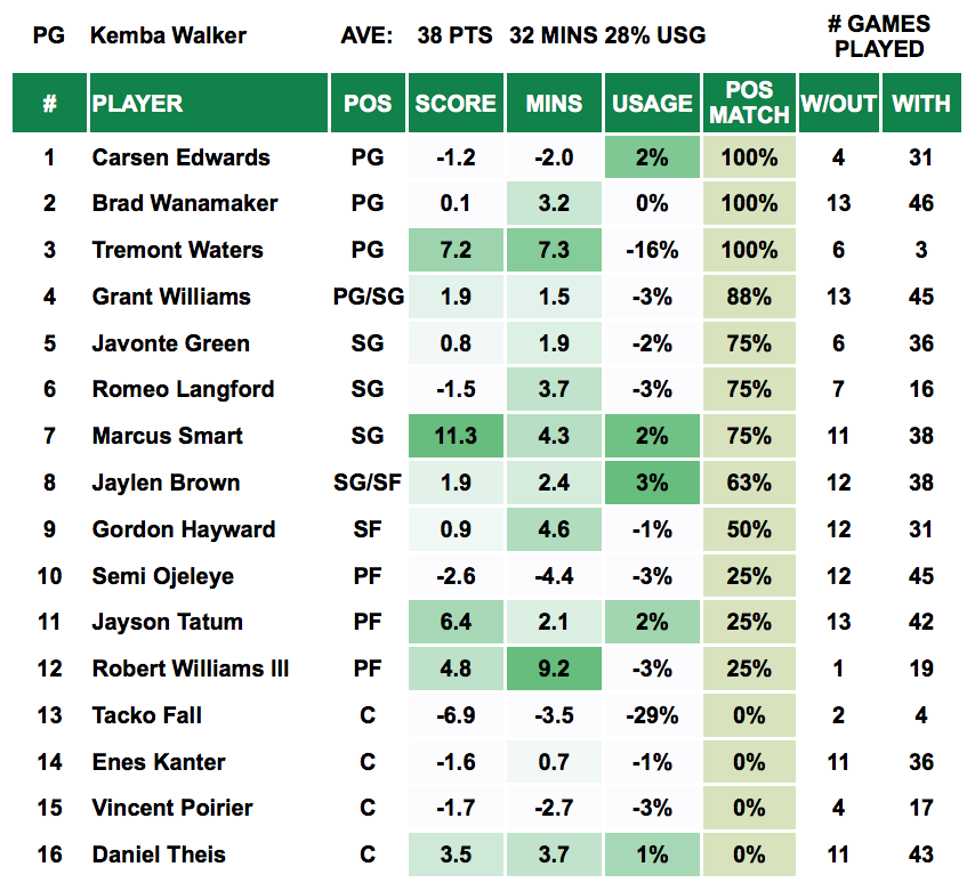 Zach LaVine is out for the game against Minnesota. This will be just the second game LaVine has missed this season. In the most recent game Denzel Valentine started in his place and posted 27 fantasy points in 21 minutes of playing time. Coby White also came through again with a 35-fantasy point game, sporting a usage increase of 7%.
Andre Drummond is out, while Tristan Thompson is questionable for the game against Boston. If bother players are out again it will be Larry Nance who moves into the starting lineup. Last game he played 39 minutes and returned 43 minutes. If Thompson plays, he will likely become a solid play without Drummond in the lineup.
Aaron Gordon is questionable for the game against Utah. Without Gordon in the lineup this season it has been Nikola Vucevic who has assumed a significant portion of the workload posting +2.7 fantasy points per game from an additional 5% in usage. Gary Clark started for Aaron Gordon last game and played 29 minutes but only managed 12 fantasy points.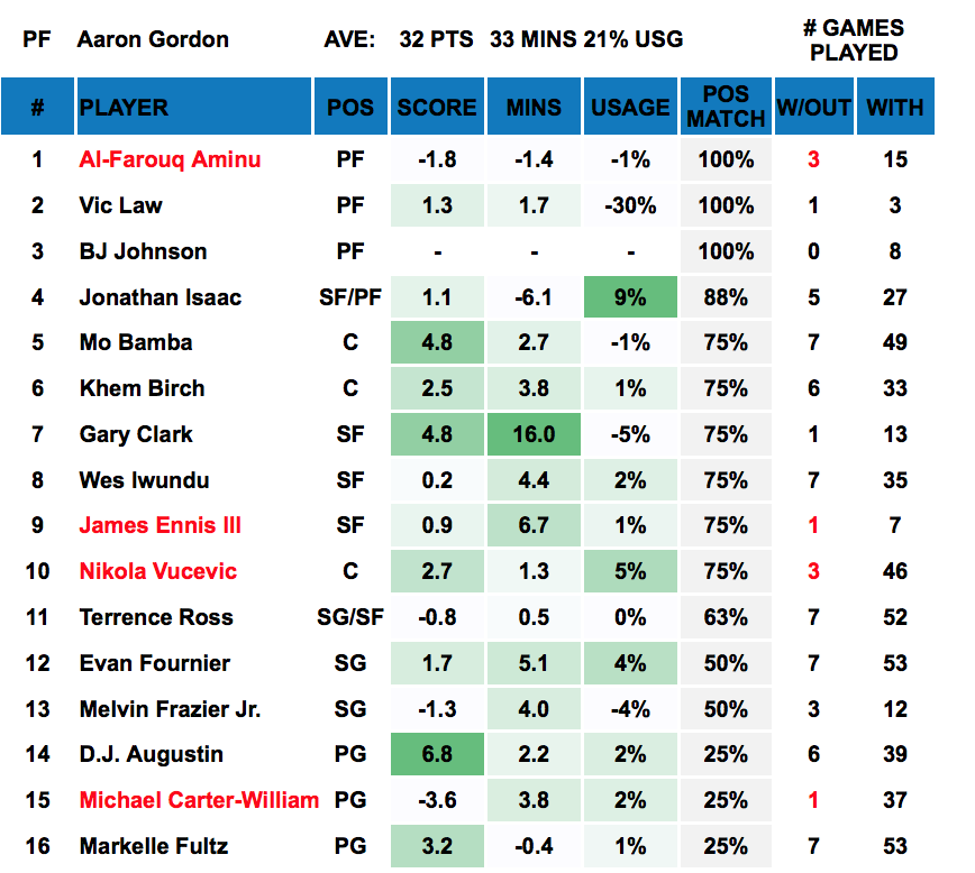 VALUE PLAYS
As always, more value will likely open up as we get closer to the slate and further lineup news breaks. Also be studious in looking at pricing differences between the three platforms as some players are value on different sites just due price.
In addition to the possible value plays noted above (Denzel Valentine, Brad Wanamaker):
De'Anthony Melton (DS $7,710, DK $4,500, MB $5,200) has moved into the starting lineup for the Grizzlies as they go smaller with injuries to their power forwards. He is essentially locked into 25 minutes per game in the current situation and has averaged over 1 fantasy point per minute this season, which means he should be a safe bet to pay off his salary on this slate.
Gary Trent (DS $8,230, DK $4,500, MB $4,500) will continue to be a solid value play if Lillard is still out. He brings GPP winning upside as we saw last game where he posted 36 fantasy points (while also bringing a low floor). This is a dream match-up for him against the Washington Wizards who have not only given up the second most fantasy points to shooting guards this season, but also the second most made three pointers. Trent in this role will generally get up 6+ attempts from long distance per game.
MID PRICED
Caris LeVert (DS $13,530, DK $7,200, MB $6,600) has been a revelation since his return from a lengthy and horrible leg injury last season. He is a pure GPP play at this price point but has shown time and time again his ceiling scores are way up there. He has lodged 2 60+ points against from his last 4 and has gone at least 40+ in 5 of his last 10, and 37+ in 7 of his last 10. On this slate he draws Memphis who play at an up-tempo pace and have given up the 8th most fantasy points in the league this season.
Tomas Satoransky (DS $10,080, DK $5,800, MB $5,600) is another I love in tournaments on this slate. I am very eager to get exposure to the Bulls players with their match-up against the Timberwolves. They have given up the most points in the league over the past 10 games to point guards and Satoransky brings 40+ point upside, particularly with Zach LaVine out of the lineup.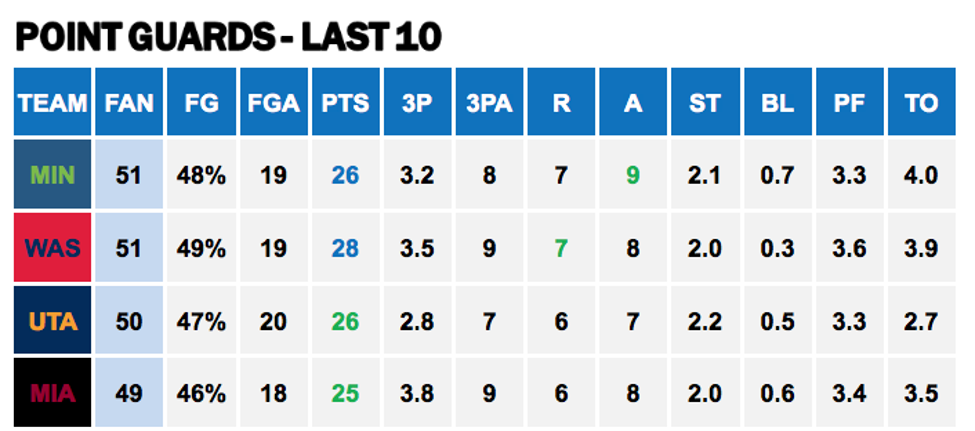 PREMIUM PLAYS
Jonas Valunciunas (DS $14,590, DK $7,800, MB $7,500) I am going right back to the well here again. Last game it was only a blowout that held back Jonas from totally destroying, albeit he still managed 38 fantasy points from just 25 minutes. On this slate he once again draws one of the top matchups in the league for his position against Brooklyn who have conceded the second most fantasy points to centres this year. They do it by leaking rebounds, and Jonas scores through cleaning up the glass. In addition, barring any major blowout like we saw last game Jonas is essentially locked into 30+ minutes per game as a result of the Grizzlies being shorthanded. He has averaged a massive 1.33 fantasy points per minute this season and across the last three games has averaged 46.
CJ McCollum (DS $16,900, DK $8,600, MB $9,100) In the last 6 games McCollum has had a score under 50 fantasy points just once, it was 42. He has practically become the safest play in the league while Damian Lillard is out (keep an eye on the news as there is some through that he will return on this slate). Since Dame has been out McCollum's usage rate has gone up a ridiculous 9% and this has led to an even more insane 21 point per game increase in fantasy production. Even better on this slate he faces Washington who have given up the second most fantasy points in the league this season, and as you can see above are getting absolutely torched by the guard positions.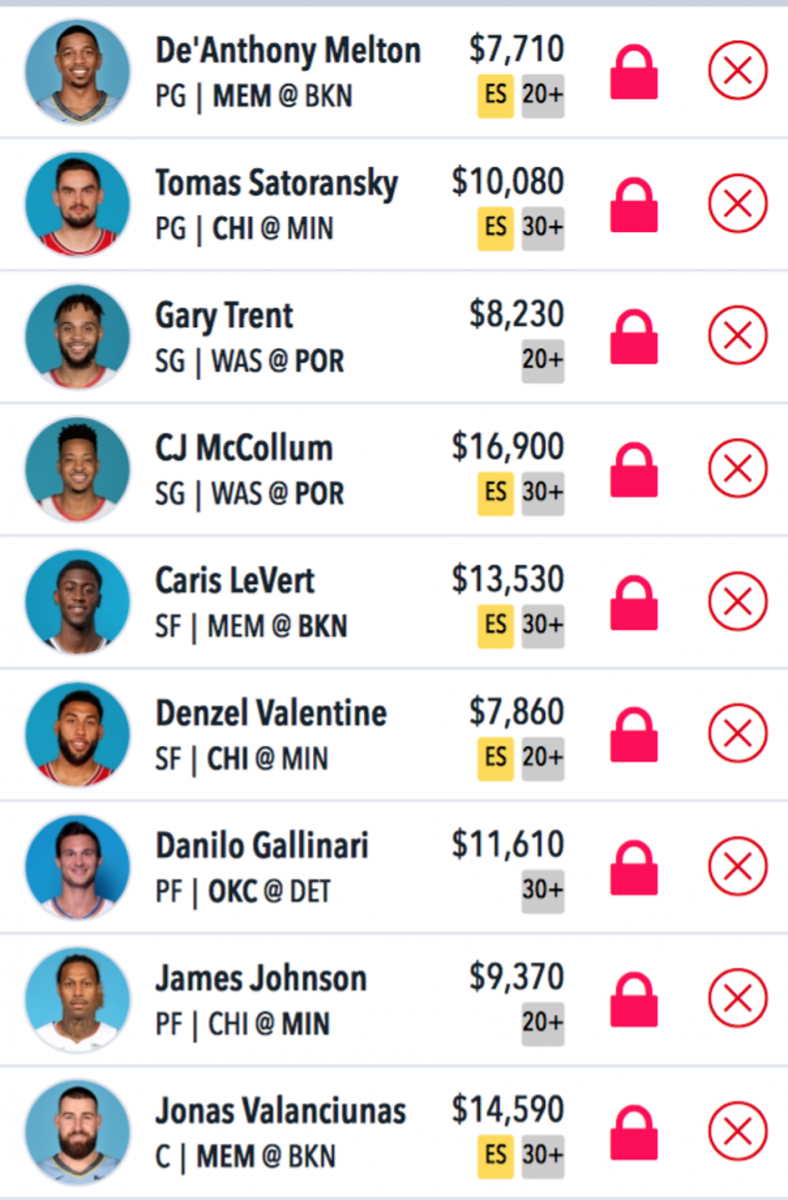 In case you are new to NBA DFS these articles break down the matchups and highlight the key plays to help you build winning lineups. For more insight into how to utilise our game breakdown data check out our NBA DFS Training Camp Series:
Always remember to gamble responsibly. When the fun stops, stop. If gambling is having a negative impact on your life, seek support at Gambling Help Online. 18+ only.