daily fantasy sports articles
Draftstars Player Swap Announced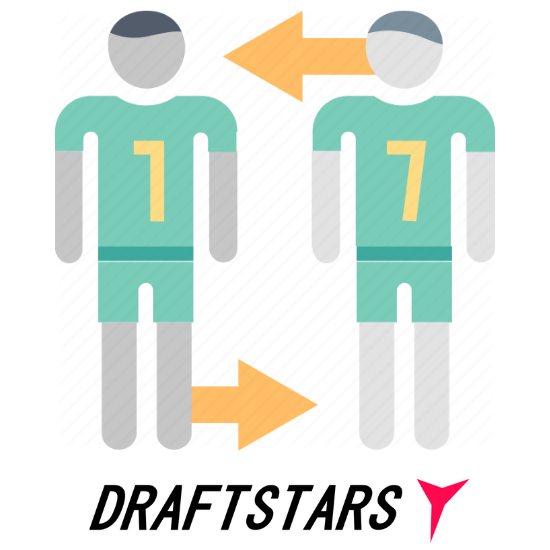 In a first for Australian Daily Fantasy Sports, Draftstars has announced it will be providing a "Player Swap" feature for all future contests and sports for the site. The DFS community in Australia have no doubt experienced the need to swap out a particular player from a contest. More often than not, this will occur when a player who has been named to play on a team is all of a sudden withdrawn due to injury. Draftstars have taken steps to provide a Player Swap feature that will enable your lineups to avoid that dreaded "zero" score.
So how will "Player Swap" will work on Draftstars?
Draftstars will enable "Player Swap" for contests containing multiple games, otherwise known as a "slate" of contests. Players will be allowed to be swapped with another player as long the new player is the same position and is equal or less expensive than the original player's salary.

Draftstars will enable the "Player Swap" once the slate is underway until the scheduled contests commence action. Draftstars reserves the right to extend the scheduled start time of games which is quite common in the NBA and NRL. The AFL and NFL in most cases commence games on their scheduled start time.
The use of "Player Swap" is solely designed to swap individual players, not to restructure lineups.
In fairness to the field you will notice a change in how you will see live contests once slates get underway. First of all, you will only see the Percentage (%) ownership of players that are locked and in play. The remaining players in your lineup and opponents' lineups will be masked. An example of your opponent's screen with players not started is below:
The Player Swap feature will be located on the My Teams tab.
Let's look at a couple of examples using the NBA.
Half way through an NBA slate, the Toronto Raptors announce that Kyle Lowry (Point Guard) will be out with an injury. The news was announced 30 minutes before the scheduled start of the contest by the Raptors. Kyle Lowry had a Draftstars salary of $13,950 and, once enabled by the third-party data provider, Lowry's playing designation will be changed to "Out".
You will now have the ability to change Lowry to another Point Guard on the slate that has not yet started their match. For this example, Ricky Rubio of the Phoenix Suns has a salary of $12,500 and is also a Point Guard. It will be up to users to swap players before their relevant match gets underway. Once a swap has enabled, you cannot reverse the swap. This swap will see a loss of $1,450 of your salary cap. If you wish to subsequently swap Ricky Rubio to another Point Guard before a contest gets underway, then you only have $12,500 (not the original salary of $13,950) to swap again to a player (Point Guard only) at that salary or less.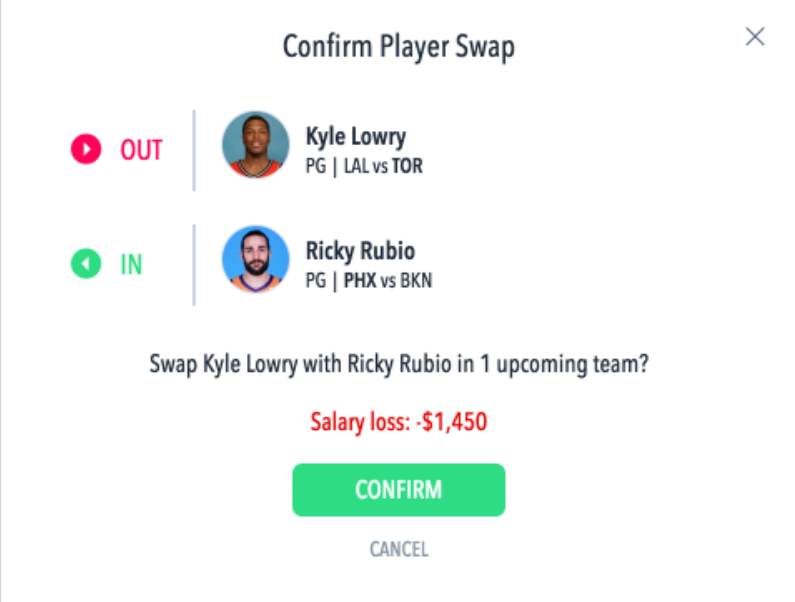 Draftstars will not make any changes to your lineups on your behalf. However, if you have enabled notifications on your mobile phone or via your browser, Draftstars will attempt to alert subscribers that a player with an "Out" designation is still in a lineup 10 minutes before the scheduled start of a contest. Check with your account settings if this feature has been enabled.
A 2nd example a "Player Swap" that can be used is when you want to change a player with Dual-Position status (DPP). A popular DPP player in the NBA is LeBron James who currently has a Point Guard and Small Forward position status. In the situation where you have him in different teams in different positions, you will need to conduct two separate swaps - one for the Point Guard Position and one for the Small Forward position. You will notice that Draftstars will show the exposure % of a particular player in your pool once contests are underway.

Let's look at some answers for your potential questions.
If you have players that you want to swap on different slates, then you need to go to each slate and change it separately. You may have Gary Ablett in an AFL Full Round contest as a Midfielder and also in a Sunday AFL contest as a Forward. You will need to find a Midfielder at the same or less salary for the Full Round Slate then go to your Sunday slate and swap Ablett to a Forward with the same or less salary.
You cannot swap more than one player at a time. Therefore you cannot combine the salary of two or more players you want to swap and combine that salary to swap to two other players. It is simply one to one.
A player does not have to be "out" to be swapped. You can swap a "named" player to another player, as long it is in the same position and equal or less their salary. Again, you can not recover the salary once swapped.
You can swap a player in multiple lineups with another player at the same time wherever possible. You may have five out of five lineups of James Tedesco at Full Back for the Roosters which can be changed to Cameron Munster for the Storm in all five lineups at the same time, as long you fit under the salary and he is still available to select.
You cannot however have a combination of different players swapped. So you cannot have 3 teams swapped with Munster and 2 teams with Anthony Milford for example, you need to swap all 5 to one player only.
You cannot recover salary loss. You might have a $17,000 Ruckman who pulls out 90 minutes before the contest and the next available Ruckman to swap to is only $7,000. Whilst your lineup is now only worth $90,000, it is still better than a "zero" in the ruck position.
Sometimes your swap may not work and this can be due to a couple of reasons. First of all if a player is locked, their match is underway and you cannot select locked players.
Secondly, your swap could break a contest rule. In multi-game slates, there are restrictions on how many players you can select from a certain team. In the AFL this is currently set at five per team.
Thirdly and quite self explanatory, you cannot swap a player that is already in your lineup. Draftstars will prompt if a submission failed when conducting a "Player Swap".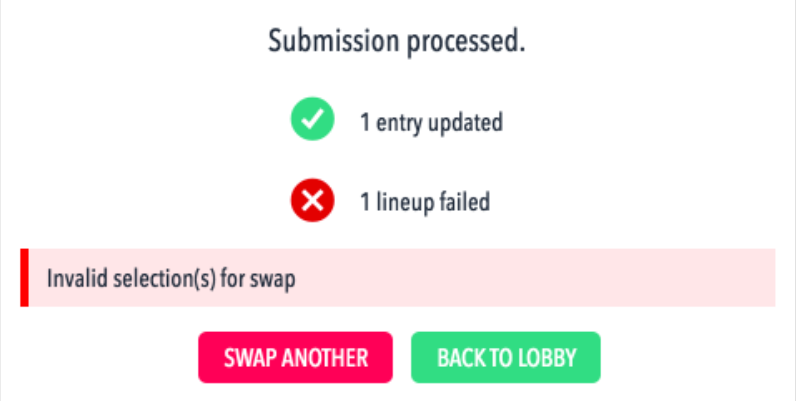 And lastly, if there is no players to swap to, then unfortunately you will not be able to swap.
Draftstars will go live with the feature soon and you will need to update your web browser when prompted or update your chosen app.
This feature changes the way you play on Draftstars and the platform has taken steps to avoid that dreaded "donut" in your teams.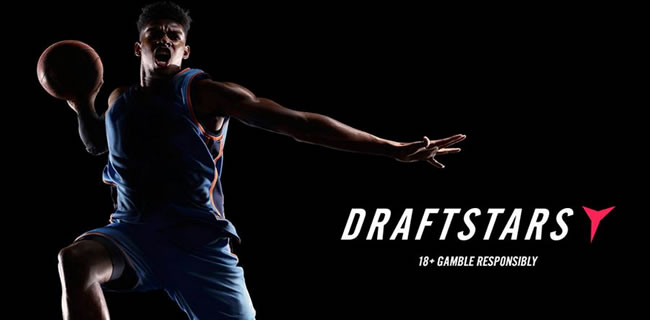 Always remember to gamble responsibly. When the fun stops, stop. If gambling is having a negative impact on your life, seek support at Gambling Help Online. 18+ only.