daily fantasy sports articles
2018-19 NBA Daily Fantasy Tips, Wednesday 30th January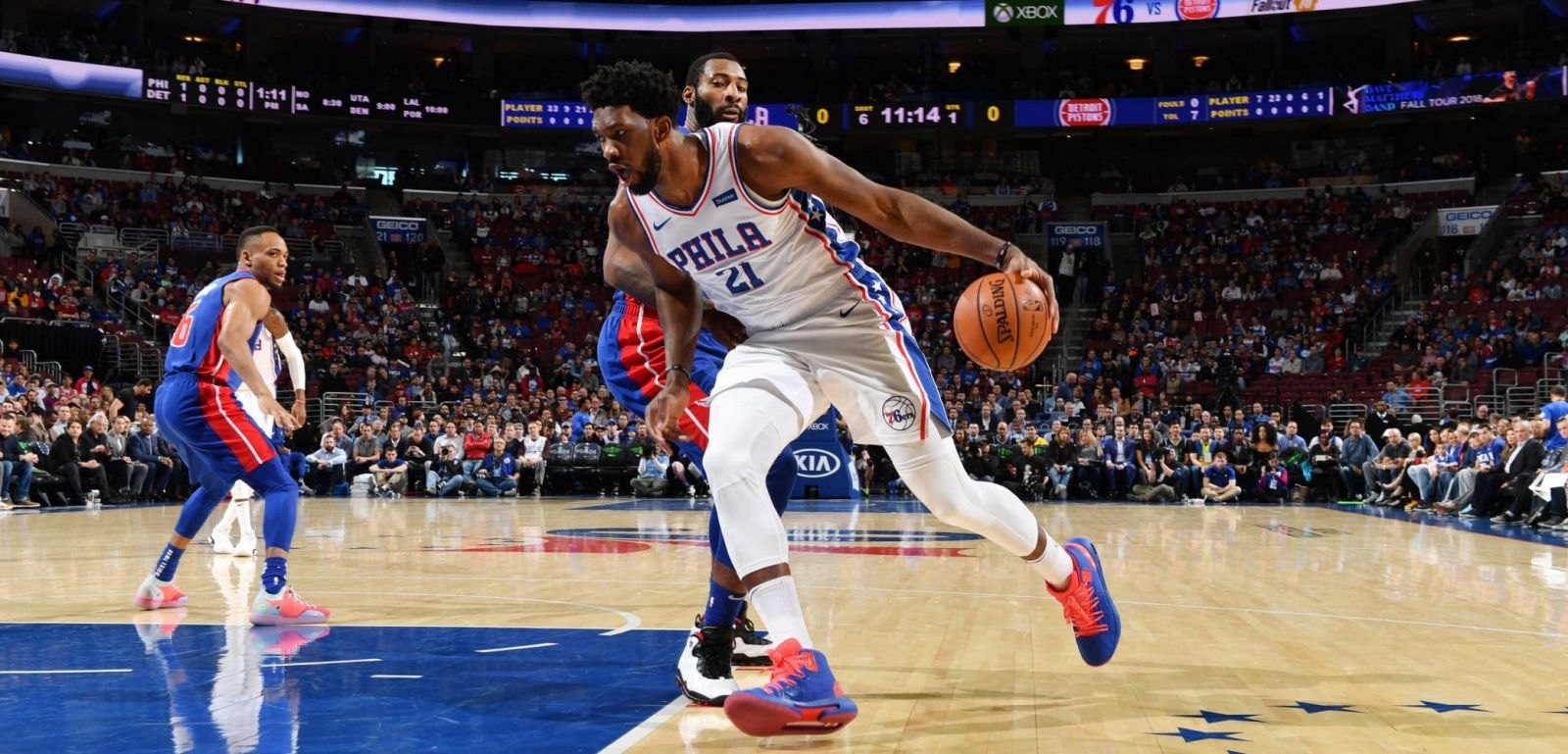 NBA Tuesday (Wednesday AEST) looks a beautiful 7 game slate to get amongst this week. The usual major DFS tournaments are on offer:
We have broken down the matchups and highlighted the key plays to help you build winning lineups. For more insight into how to utilise our game breakdown data check out our NBA DFS Training Camp Series:
Part 1 – Betting Lines and Totals
Part 2 – Matchup Analysis – Pace and Defense vs Position
Part 3 – Key Statistics in Daily Fantasy Basketball
Part 4 – Trade Analysis – Breaking Down the Jimmy Butler Trade
Part 5 – DraftKings Sharpshooter Winning Lineup Recap
Part 6 – Adjusting for Line-up News
Have you seen our new NBA DFS Cheat Sheets? We have added even more information for you to see at a glance, including pace numbers, last 5 scores per player and a new Slate Overview section, which brings you projected pace, projected fantasy score totals and Vegas lines and totals for every team on the slate. The perfect accompaniment to our regular previews and a great starting place for the days we don't cover!
GAME BREAKDOWN

New Orleans at Houston is the clear top game total on the slate at 234.5 points, 13 points above the next highest on the board currently. New Orleans have played at the 5th fastest pace in the league this season, while being ranked 26th in defensive efficiency. This game will be popular to attack, however Houston are one of the slowest teams in the league with the 28th lowest pace and this game has ral blowout potential with a 10 point line.
A sneaky game I will look to attack is Oklahoma City at Orlando as the Thunder have been playing at the fastest pace in the league over the past 15 games.
There are two games awaiting injury news and yet to have a total or line set yet, we break down the major injury news below. Of these two games Philadelphia at Los Angeles looks the most juicy and might even have the top game total on the slate once it is out.

Orlando are in the pace up spot on the slate, and this is probably even better than it appears given the pace the Thunder are playing at recently.
Both Philadelphia and Los Angeles are in pace up matchups with the 76ers playing at the 7th fastest pace this season, and Lakers 4th fastest. This looks to be the premier matchup on the slate and is in LA, which might limit the blowout potential assuming Lebron is still out.
Injury News
Major injury news that could impact this slate includes:
Los Angeles
Lebron James will not return, and Kyle Kuzma is questionable for the matchup against the 76ers on this slate. With James, Kuzma and Ball off the court this season Brandon Ingram (DS $11,810, DK $6,400) has seen the biggest usage increase of 3.8%, which has resulted in +6.7 fantasy points per 36 minutes. Michael Beasley (DS $5,570, DK $3,800) got the start last game with Kuzma out and played 26 minutes, returning 28.5 fantasy points.
New Orleans
Anthony Davis, E'Twaun Moore and Nikola Mirotic remain out on this slate. Julius Randle is questionable. Jahil Okafor (DS $11,970, DK $6,100) has been the biggest beneficiary with these players out, over the past 5 games he has been averaging 26 minutes per game and over 34 fantasy points. Darius Miller (DS $7,480, DK $3,700) has also moved into the starting lineup playing nearly 30 minutes per game over the last 5 matches. Jrue Holiday (DS $17,120, DK $8,600) is the premium priced player who benefits the most receiving a 3% usage increase with those four players off the court he has averaged 47 fantasy points per game over the last 5 matches.
Phoenix Suns
DeAndre Ayton is listed as doubtful for the match on this slate against the Spurs. In the 5 games Ayton has missed this season Dragan Bender (DS $7,450, DK $4,200) has been the biggest beneficiary, however 4 of those games were without Richaun Holmes (DS $8,390, DK $4,700) as well. In the most recent game Holmes returned and Bender only saw 13 minutes of action, while Holmes played 27 minutes and notched up 37 fantasy points.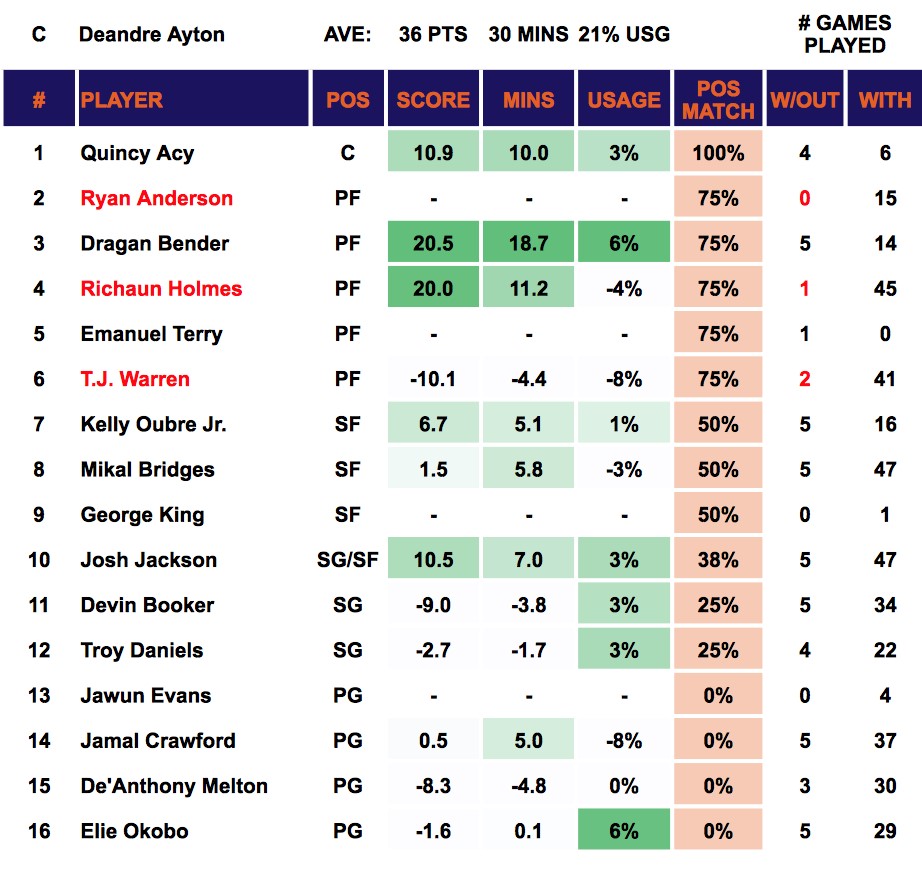 San Antonio Spurs
DeMar Derozan has been ruled out for the match with the Suns on this slate. In the three games he has missed this season it has been Lamarcus Aldridge (DS $15,410, DK $8,700) who has seen the biggest boost in usage of 7% resulting in +10.7 fantasy points per game.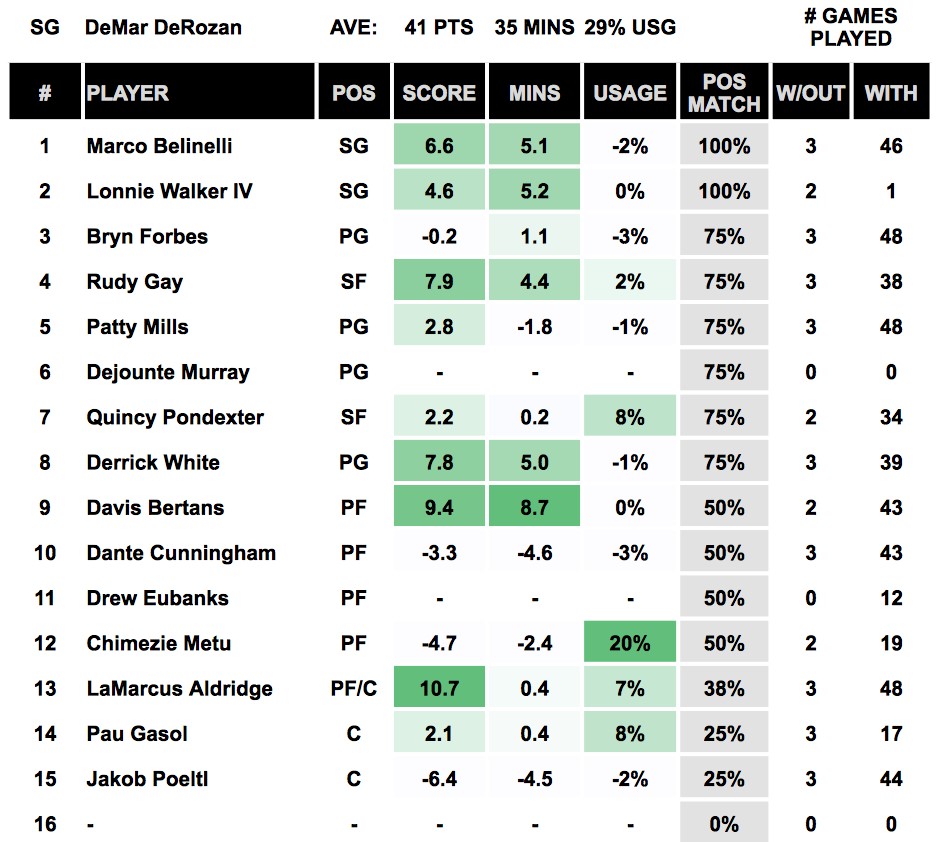 VALUE
Remember to monitor injury news, particular those uncertainties noted above, as tip off gets closer as further value should open up.
Robin Lopez (DS $6,980, DK $4,000), if starting, draws one of the top matchups at his position against Brooklyn who have given up the third most fantasy points to centres this year. The Bulls have been all over the place with their centre rotations recently but when Lopez has seen over 20 minutes in his last 10 games he has averaged almost 25 fantasy points.
Alec Burks (DS $8,390, DK $4,900) has been getting just under 30 minutes per game over his last three games and averaged over 32 fantasy pointers per game in that stretch. On this slate he draws the Wizards who are ranked 25th in defensive efficiency this season.
Richard Hollis-Jefferson (DS $7,330, DK $3,800) has returned to the starting lineup and over his last two games received over 24 minutes of playing time. Hollis-Jefferson has always been a solid fantasy point per minute player, averaging 0.95 fantasy points per minute this season. He is far too cheap if he is getting that level of playing time and on this slate draws the Chicago Bulls who are 23rd in the league in defensive efficiency.
MID-PRICED
Jimmy Butler (DS $14,220, DK $6,900) is priced too cheap in my favourite game of the slate. He brings well over 50 point upside which is GPP winning value at this price point. The game should be one of the fastest on the slate and the Lakers have given up the second most points in the league this season to shooting guards, to go along with the fourth most points to small forwards over the last 10 games.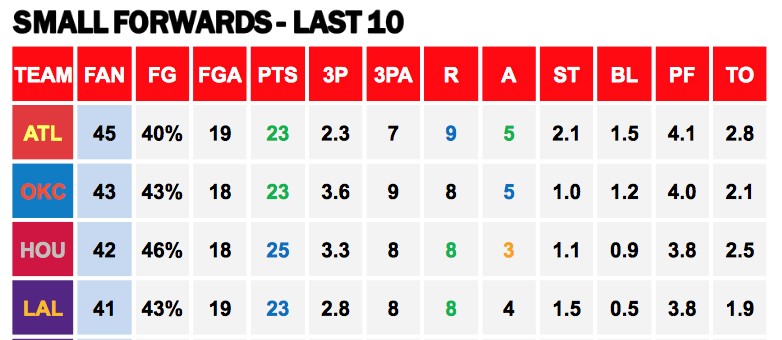 Lauri Markkanen (DS $13,660, DK $6,600)'s matchup against Brooklyn doesn't pop at first look but the Nets pace of play has gone right up of late, playing at the third fastest pace in the league over the last 10 games. Lauri has had just 1 game under 33 fantasy points in his last five matches and offers up to 50 point upside.
PREMIUM
James Harden (DS $26,660, DK $13,600) is almost the first decision that needs to be made on every slate given his performances and price point as it dictates your entire build. On this slate he has one of the top matchups in the league against the New Orleans Pelicans who have given up the 4th most fantasy points this season. That said, from a micro view Jrue Holiday is one of the top defenders at his position and although the way the Rockets attack the switch renders this somewhat irrelevant, the Pelicans are better than league average at defending shooting guards.
Furthermore Chris Paul is now back in the lineup which reduced Harden's usage, although that didn't stop Harden from dropping 71 fantasy points last game. At this price, however, that is almost the bare minimum you can get and it still might not be enough.
Joel Embiid (DS $20,530, DK $10,200) has absolutely massacred the Los Angeles Lakers during his career thus far. This doesn't factor to change on this slate with the Lakers giving up the 5th most fantasy points to centre this season (and over the last 10 games).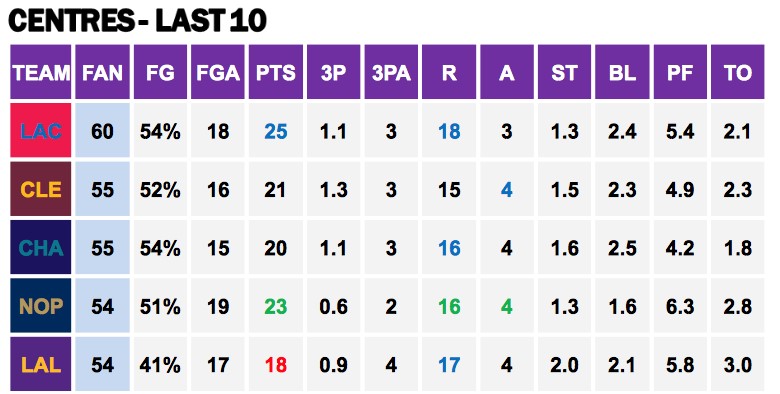 LaMarcus Aldridge (DS $15,410, DK $8,700), as noted above, gets a 7% usage increase when Demar DeRozan hasn't played this season. On this slate he will line up against the Phoenix Suns who have given up the 5th most fantasy points in the league this season, and the most to the centre position where Aldridge will spend a portion of his time.
Data provided by Notorious of RotoGrinders and Daily Fantasy Rankings NBA Resources

Always remember to gamble responsibly. When the fun stops, stop. If gambling is having a negative impact on your life, seek support at Gambling Help Online. 18+ only.