daily fantasy sports articles
2018-19 NBA Daily Fantasy Tips, Thursday 3rd January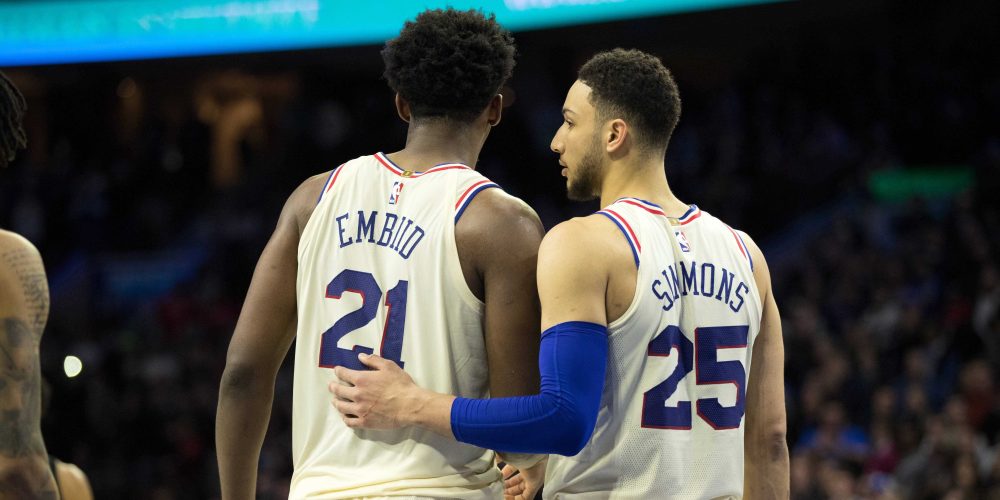 The first NBA Wednesday (Thursday AEST) of the New Year delivers us a beautiful 9 game slate to sink our teeth into. The usual major DFS tournaments are on offer:
In addition it worth highlighted that Moneyball have a target jackpot competition that is over $45K at the moment. For just $1 an entry you could take home the entire amount if your team scores over 425 points.
We have broken down the matchups and highlighted the key plays to help you build winning line-ups. For more insight into how to utilise our game breakdown data check out our NBA DFS Training Camp Series:
Part 1 – Betting Lines and Totals
Part 2 – Matchup Analysis – Pace and Defense vs Position
Part 3 – Key Statistics in Daily Fantasy Basketball
Part 4 – Trade Analysis – Breaking Down the Jimmy Butler Trade
Part 5 – DraftKings Sharpshooter Winning Lineup Recap
Part 6 – Adjusting for Line-up News
GAME BREAKDOWN

New Orleans at Brooklyn has the top game total of the night at 230.5 points, however there are 3 games at 229.5 plus on this slate presenting a number of options to target.
The second largest at 230 points is the Oklahoma City Thunder vs Los Angeles Lakers matchup. As per usual I will be wary regarding rostering the Lakers on this slate despite Lebron being out as the Thunder are ranked number 1 in defensive efficiency this season and have given up the 7th fewest fantasy points in the league this season despite playing at the 4th fastest pace.
My favourite game on the slate is Atlanta vs Washington with a 229.5 point game total and a 5 point line. Both teams are top 10 in pace and bottom 6 in defensive efficiency.
There are three games without lines set as yet due to pending injury news which is discussed below. The most interesting of these three matchups is the Philadelphia 76ers vs Phoenix Suns.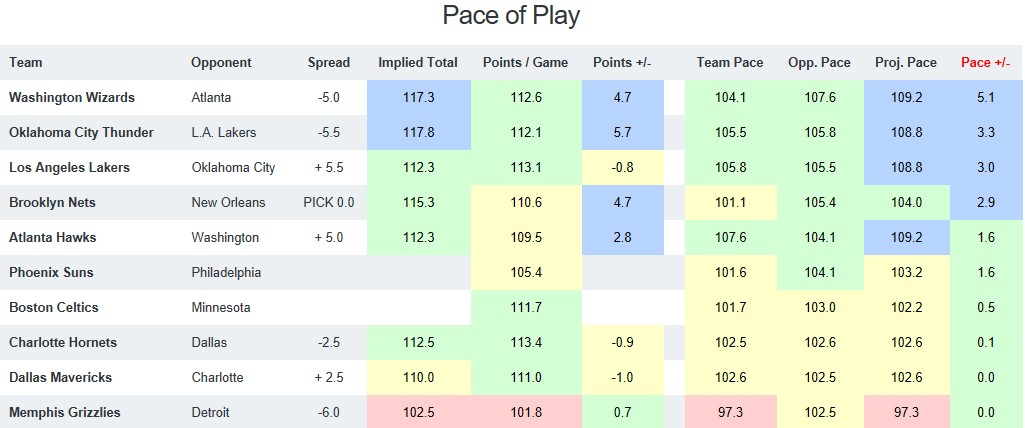 Washington draw the biggest pace up matchup of the slate going against Atlanta who have played at the fastest pace in the league this season. Just behind them is the Thunder who are matched up against the Lakers. The Lakers have played at a much faster pace with Lebron out of the lineup which should make this an even more attractive spot to roster Thunder players.
INJURY NEWS
Some of the major injury news to monitor includes:
Minnesota Timberwolves
Derrick Rose is listed as doubtful for the match against the Celtics. Robert Covington and Jeff Teague are both questionable. If Rose and Teague are both out Tyus Jones (DS $5,600, DK $9,530) is the biggest beneficiary beneficiary averaging 37.5 fantasy points over the last two games in their absence. If Robert Covington is out Dario Saric (DS $7,920, DK $4,400) or Josh Okogie (DS $5,000, DK $3,700) are likely to start.
Orlando Magic
Nikola Vucevic is day to day after suffering a calf injury. If he is out Mo Bamba (DS $6,020, DK $4,700) is likely to take the starting role and become the chalk value play on the slate. He has scored +3.3 fantasy point from an extra 2.1 minutes in the two games Vucevic has missed this season. Jonathan Isaac (DS $8,600, DK $4,100) might be the more under cover target and he has seen a bigger benefit than Bamba this year with a +6.5 fantasy points from an extra 3.2 minutes of game time.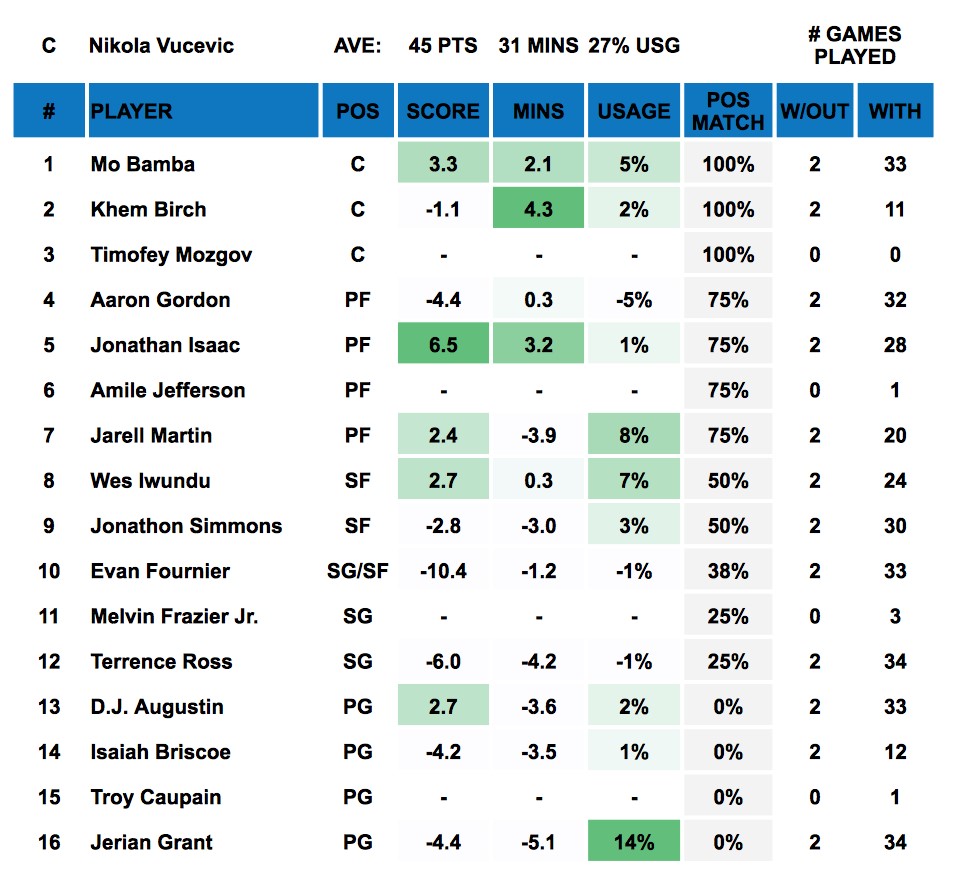 VALUE
As usual remember it is early to be predicting the value plays with line-ups not being confirmed until closer to tipoff.
Jaren Jackson Jr. (DS $8,910, DK $5,000) has been in foul trouble the last two games and as a result played significantly less minutes than his average for the season. This has resulted in a price drop on both platforms. While Jackson Jr. is certainly not cash game safe he offers significant value for GPPs with a ceiling into the high 40s.
Josh Hart (DS $8,810, DK $5,300) is still too cheap on Draftstars. He has been the biggest beneficiary of Lebron James being out with injury averaging +14.1 fantasy points from an extra 10.5 minutes of playing time across the 3 games. There aren't many positions to attack Oklahoma City but they are below league average when it comes to defending the shooting guard position.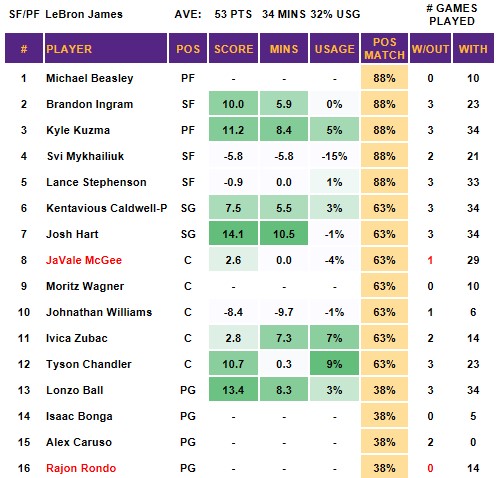 Jeff Green (DS $8,520, DK $4,400) will be one of my lock and load plays of the day on this slate. When John Wall, Markieff Morris, Dwight Howard and Otto Porter have not played this season it has resulted in a +10.4 fantasy points per game on Green's season average. Furthermore on this slate he will facing the Atlanta Hawks who have given up the second most fantasy points to the power forward position this season.
DeMarre Carroll (DS $7,180, DK $4,000) has averaged a tick under 30 minutes across the past four games. With both Allen Crabbe and Rondae Hollis-Jefferson out there is plenty of playing time to go around for wing players. Carroll has averaged 0.78 fantasy points per minute this season and has a premium DFS matchup vs New Orleans who have given up the 4th most points to small forwards this season.
MID-PRICED
Trae Young (DS $12,670, DK $6,500)… again you might say? Yes again. Young has amazingly become more consistent recently with 6 straight games over 30 fantasy points. But don't start thinking about him for cash games just yet. As per usual I love Young's 50+ point upside for GPP's and he has the number one matchup for his position in the entire league on this slate with Washington conceding the most points to point guards this year.
D'Angelo Russell (DS $12,070, DK $7,000) is another GPP target in a great spot on this slate. Russell and Spencer Dinwiddie (DS $, DK $7,200) seem to trade off each game who is going to blow out so either are in play on this slate, however just don't put them in the same line-up. The New Orleans Pelicans have given up the 3rd most points to point guards this year.
Justice Winslow (DS $11,530, DK $6,900) made you a lot of money recently if you picked up on the announcement that the Heat were handing over all the point guard duties to him. Since his price has sky rocketed up over $2K on DraftKings. He still looks to be a decent enough value, particularly on Draftstars given his new role and on this slate he faces Cleveland who have given up the 4th most points to point guards over the last ten games, which includes 50+ fantasy points to Winslow just 2 games ago.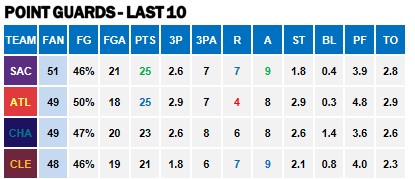 PREMIUM
Ben Simmons (DS $16,310, DK $8,900) / Joel Embiid (DS $18,740, DK $) both have premium matchups for their position on this slate. I have tagged them both due to the fact that Embiid was a game time decision today so will be a legitimate chance to miss the second leg of the back to back.
If Embiid plays he will matchup against rookie DeAndre Ayton who has given up the second most points in the league to centres this year, and the most over the past 5 games:

In Embiid doesn't play Simmons would become a lock and load for me at this price with the Suns getting absolutely destroyed by point guards recently:

Bradley Beal (DS $16,530, DK $8,600) continues to be an elite play with John Wall out. In games without Wall this season Beal has seen a stagging +17.5 fantasy points:

His price has risen, particularly on DraftKings, however on this slate he matches up against the Atlanta Hawks who have given up the second most points to shooting guards this season.
Anthony Davis (DS $20,960, DK $11,800) / Julius Randle (DS $14,010, DK $8,000) make for our second double tag of the slate due to the injury cloud over Davis. The matchup is too good to pass up against Brooklyn who have given up the most fantasy points to centres this season by over 3 points per game to the next team. If Davis plays he is in an elite position with his limitless ceiling in play, while if he sits again Randle should consume most of those opportunities. Randle has averaged over 50 points in the last two games.
Data provided by Notorious of RotoGrinders and Daily Fantasy Rankings NBA Resources

Always remember to gamble responsibly. When the fun stops, stop. If gambling is having a negative impact on your life, seek support at Gambling Help Online. 18+ only.