daily fantasy sports articles
2018-19 NBA Daily Fantasy Tips, Saturday 26th January
NBA Friday (Saturday AEST) brings us a typical 10 game slate to dissect. The usual major DFS tournaments are on offer:
We have broken down the matchups and highlighted the key plays to help you build winning lineups. For more insight into how to utilise our game breakdown data check out our NBA DFS Training Camp Series:
Part 1 – Betting Lines and Totals
Part 2 – Matchup Analysis – Pace and Defense vs Position
Part 3 – Key Statistics in Daily Fantasy Basketball
Part 4 – Trade Analysis – Breaking Down the Jimmy Butler Trade
Part 5 – DraftKings Sharpshooter Winning Lineup Recap
Part 6 – Adjusting for Line-up News
Have you seen our new NBA DFS Cheat Sheets? We have added even more information for you to see at a glance, including pace numbers, last 5 scores per player and a new Slate Overview section, which brings you projected pace, projected fantasy score totals and Vegas lines and totals for every team on the slate. The perfect accompaniment to our regular previews and a great starting place for the days we don't cover!
GAME BREAKDOWN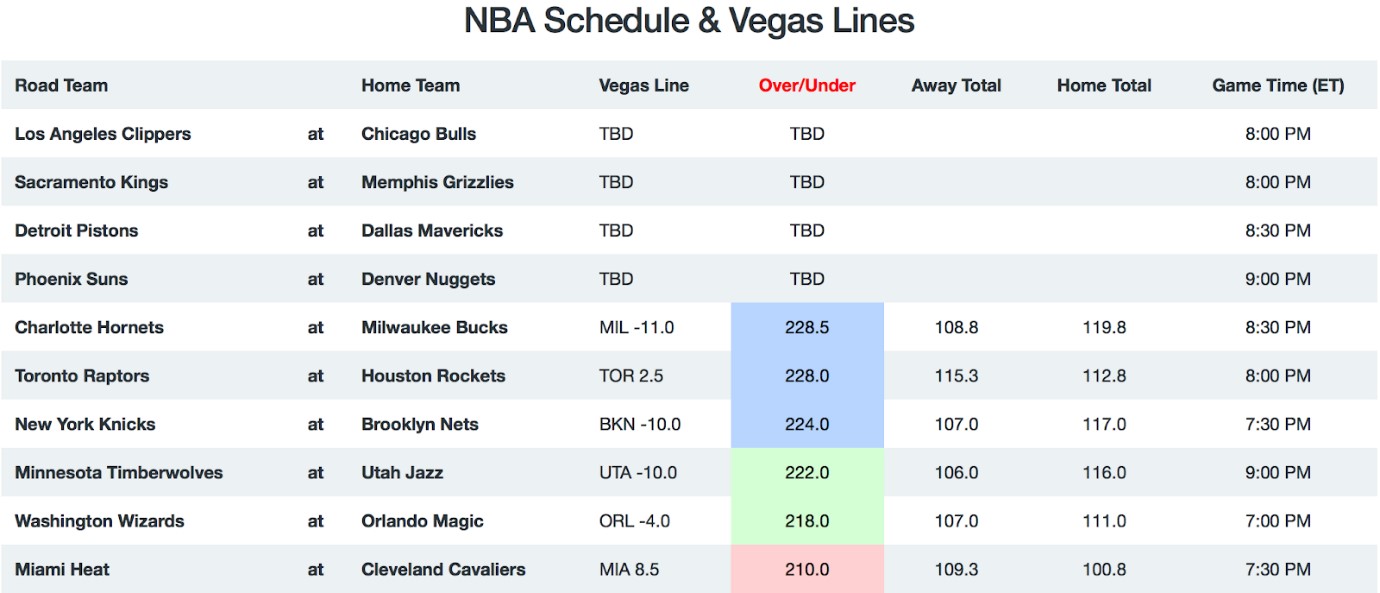 Plenty of injury news to come in on this slate again with four games yet to have a game total set. We break down the impact of potential injuries below.
There are three stand out games with totals in the 224 point to 228.5 range, two of which have lines of 10 points of greater. The match that is expected to stay close is the marquee matchup on the slate, Houston vs Toronto, which has a 228 point total and a line of 2.5.
As we saw on today's slate lines don't always mean the game will be a blowout and you can miss out on exposure to the top games on the card if you are going to fade Charlotte at Milwaukee or New York at Brooklyn due to the 10+ point lines.

Memphis are in the pace up matchup of the slate as they face the second fastest team in the league, the Sacramento Kings. The Kings are also 22nd in the league in defensive efficiency. The game total is yet to be set, but Memphis should see a positive implied total compared to their season average.
Charlotte have the next biggest pace up matchup, however due to the -10 point line against Milwaukee, one of the league best defensive teams, their implied total is -3.5 on their season average.
Sneaky teams to monitor on this slate who have played at faster tempos recently include Brooklyn (5th in the league in pace over last 10 games, compared to 18th for the season), Minnesota (6th in the league in pace over the last 10 games, compared to 11th for the season) and Phoenix (7th in the league in pace of the last 10 games, compared to 13th for the season).
Injury News
Major injury news that could impact this slate includes:
Brooklyn
Spencer Dinwiddie will be out 4-6 weeks with a finger injury. This should increase the floor of D'Angelo Russell (DS $18,850, DK $8,600) who is no longer at risk of losing significant playing time. Shabazz Napier (DS $6,900, DK $3,600) should also benefit from picking up a portion of Dinwiddie's 28 minutes per game.
Detroit
Andre Drummond is questionable for the match on this slate. In the three games Drummond has missed this season the biggest beneficiaries have been Blake Griffin (DS $18,690, DK $9,900), who has averaged +7.9 fantasy points from a 7% increase in usage, and Zaza Pachulia (DS $7,890, DK $4,400), who has moved into the starting lineup and averaged +7.7 fantasy points from an additional 16.8 minutes per game.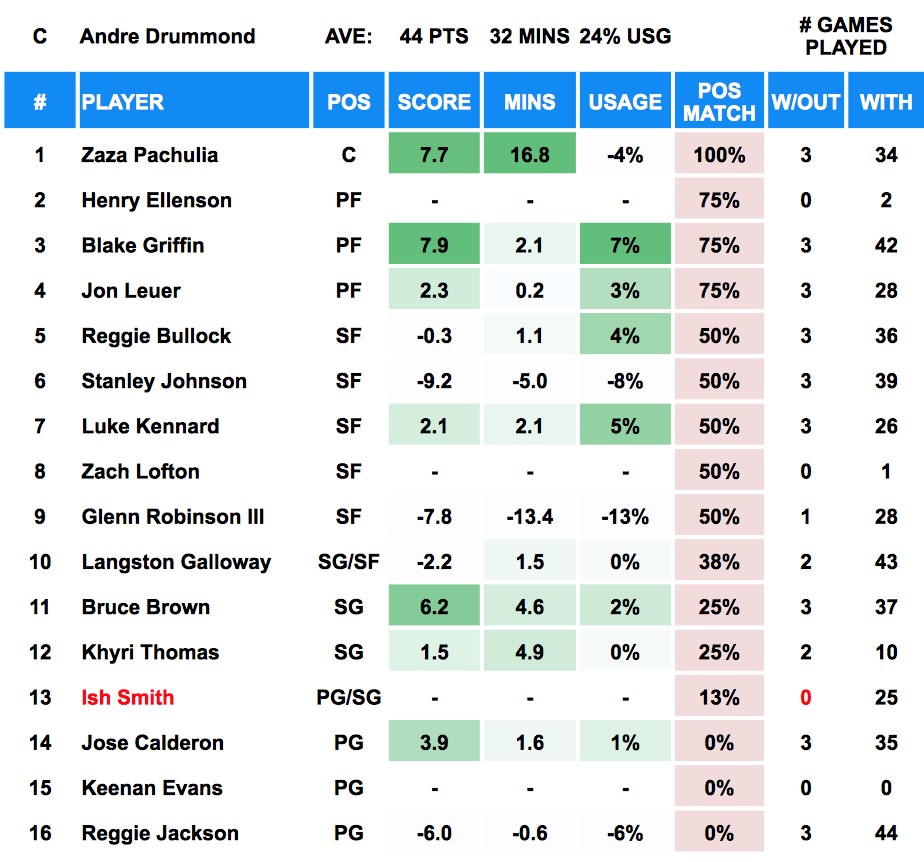 Phoenix
TJ Warren is out and Deandre Ayton is questionable on this slate. Josh Jackson (DS $8,970, DK $5,500) took Warren's spot in the starting lineup in today's match, while Kelly Oubre (DS $12,880, DK $5,600) also played 35 minutes.
In the three games that Ayton has missed this season it has been Dragan Bender (DS $6,440, DK $4,600) who has been the biggest beneficiary. Moving into the starting lineup Bender has averaged +25.2 fantasy points per game from an additional 21 minutes of playing time.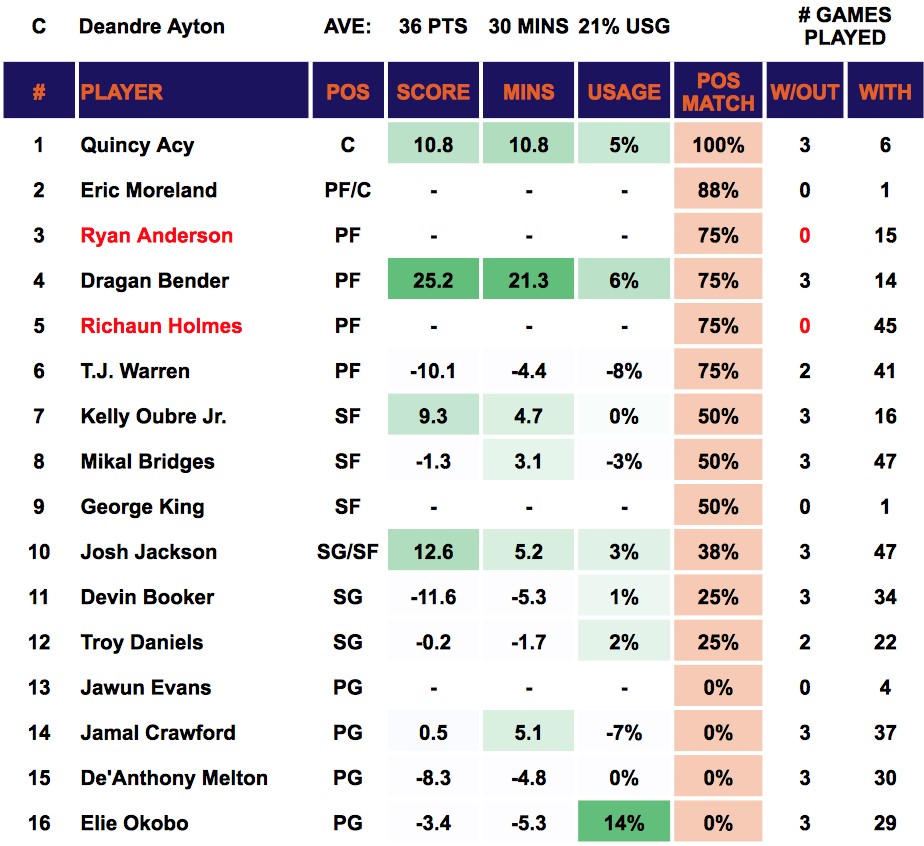 VALUE
Remember to monitor injury news as tip off gets closer as further value should open up.
Dennis Smith Jr (DS $9,300, DK $4,800) returned from his "illness" last game and it looked as if Dallas were trying to fatten the pig for market so to speak. Playing 37 minutes and taking 17 shots Smith managed 33.5 fantasy points despite shooting just 6/17. At that work load he is significantly under priced, especially on DraftKings.
Justin Holiday (DS $8,800, DK $4,100) is also underpriced for the amount of minutes he is currently playing in Memphis. Well over 30 minutes per game in each of his last 4 games he also draws an elite matchup on this slate against the Sacramento Kings who have played at the 2nd fastest pace in the league this season.
MID-PRICED
Jamal Murray (DS $12,240, DK $7,100) has an elite matchup vs Phoenix on this slate. As mentioned above the Suns have been playing at a faster pace recently and they have given up the 5th most fantasy points this season. Point guard is a position you can target them at with the Suns giving up the 7th most points to the position over the last 10 games. Murray has played the Suns twice this year, dropping 46 real points in their first meeting showing his 60 point ceiling is in play on this slate.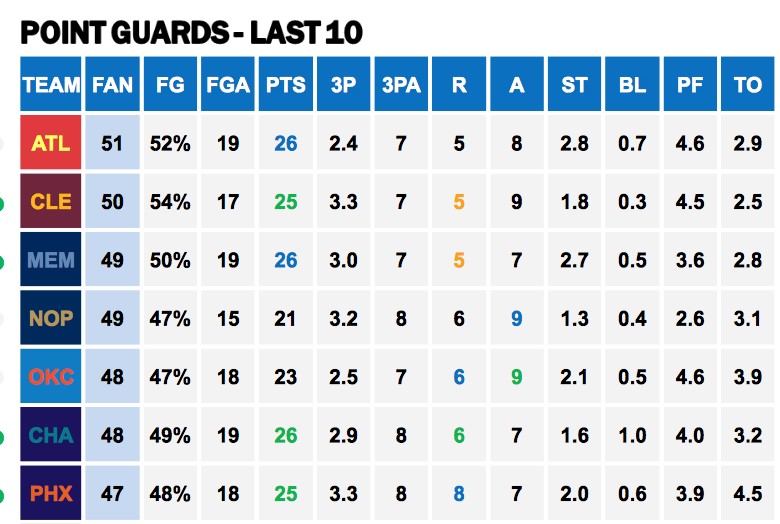 Bobby Portis (DS $9,490, DK $5,700) let a lot of us down last game, however it wasn't due to opportunity. Portis got 33 minutes and unfortunately shot just 3/12 from the floor, which means the operation was a success but the patient died. In DFS we just back right over it with one of the top matchups at the position in the league. If Portis gets the same level of workload on this slate he should return significant value.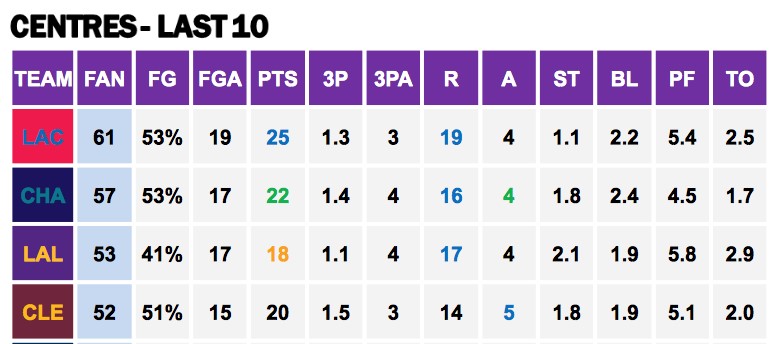 Kevin Oubre Jr (DS $12,880, DK $5,600) despite coming off the bench is a huge beneficiary of TJ Warren's injury. His minutes are more secure and he also should be blow out proof to some degree which could be crucial on this slate. In today's loss he received 35 minutes and returned 45 fantasy points. He price far too cheap still on DraftKings averaging 35 fantasy points per game over his last 6.
PREMIUM
James Harden (DS $29,030, DK $13,800) … once again nothing more needs to be said. Fresh off a 97 fantasy point performance last game Harden just continues to go to higher levels. This slate is a tough matchup against the Raptors who will be able to use one of the best defensive players of this generation on him in Leonard. It is also worth highlighting that Chris Paul is questionable on this slate, while he is more likely to return next game, if he does play Harden becomes an automatic fade at his current price.
Nikola Vucevic (DS $18,460, DK $9,700) will be my favourite pivot off Harden and hopefully goes under owned with Harden on the slate and Giannis and Jokic in smash spots (bar the blowout potential). Vucevic will matchup against the Wizards who are 24th in defensive efficiency this season and have given up the 7th most fantasy points to centres this season.
D'Angelo Russell (DS $18,850, DK $8,600) appears to have really turned a corner this season and is in the best form of career at the moment with four scores over 54 fantasy points in his last five games. Now with Dinwiddie out Russell should get all the minutes he can handle as the Nets make a playoff push. On this slate he faces the New York Knicks who have given up the second most fantasy points in the league this season.
Data provided by Notorious of RotoGrinders and Daily Fantasy Rankings NBA Resources

Always remember to gamble responsibly. When the fun stops, stop. If gambling is having a negative impact on your life, seek support at Gambling Help Online. 18+ only.