daily fantasy sports articles
2018-19 NBA Daily Fantasy Tips for Tuesday, 12th February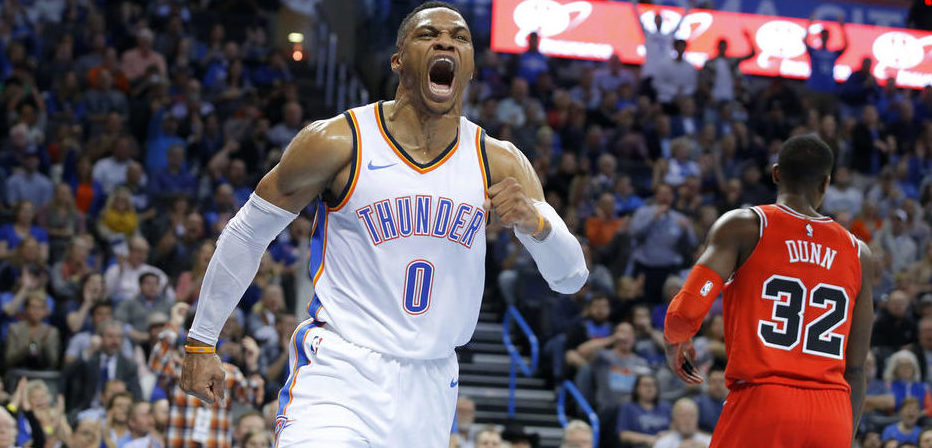 NBA Monday (Tuesday AEST) kicks the week off right with a 9 game slate. The usual major DFS tournaments are on offer:
We have broken down the matchups and highlighted the key plays to help you build winning lineups. For more insight into how to utilise our game breakdown data check out our NBA DFS Training Camp Series:
Part 1 – Betting Lines and Totals
Part 2 – Matchup Analysis – Pace and Defense vs Position
Part 3 – Key Statistics in Daily Fantasy Basketball
Part 4 – Trade Analysis – Breaking Down the Jimmy Butler Trade
Part 5 – DraftKings Sharpshooter Winning Lineup Recap
Part 6 – Adjusting for Line-up News
Have you seen our new NBA DFS Cheat Sheets? We have added even more information for you to see at a glance, including pace numbers, last 5 scores per player and a new Slate Overview section, which brings you projected pace, projected fantasy score totals and Vegas lines and totals for every team on the slate. The perfect accompaniment to our regular previews and a great starting place for the days we don't cover!
GAME BREAKDOWN

We are still waiting for plenty of injury news to come through on this slate (which we break down below). As a result 4 games are yet to have lines and game totals set.
The top game total on the slate is Portland at Oklahoma City set at 231 points. The Thunder are up to the second fastest team in the league this season, which is driving this total. There isn't a game yet to have a total set that appears likely to top this mark, making this matchup one of the most attractive on the slate.

As mentioned above with the Thunder playing at the second fastest pace in the league it is no surprise to see Portland in the pace up matchup of the slate. The Thunder are also ranked number 2 in the defensive efficiency this season, however this has been in decline recently as they are ranked just 18th in the league of the last 15 games.
Chicago has the second highest pace up matchup, however when the line is set I would expect it to be close to double figures, particularly if Milwaukee is back to full strength.
The pace-up matchups dry up after this, but Detroit look like a great target against Washington with an implied total +5.8 points above their season average.
Injury News
Major injury news that could impact this slate includes:
Denver
Paul Millsap is listed as questionable for the match on this slate. In the 11 games Millsap has missed this season it has been Mason Plumlee (DS $10,410, DK $5,800) who has seen the biggest boost, moving into the starting lineup he has averaged +11 minutes, which has resulted in +6.6 fantasy points per game.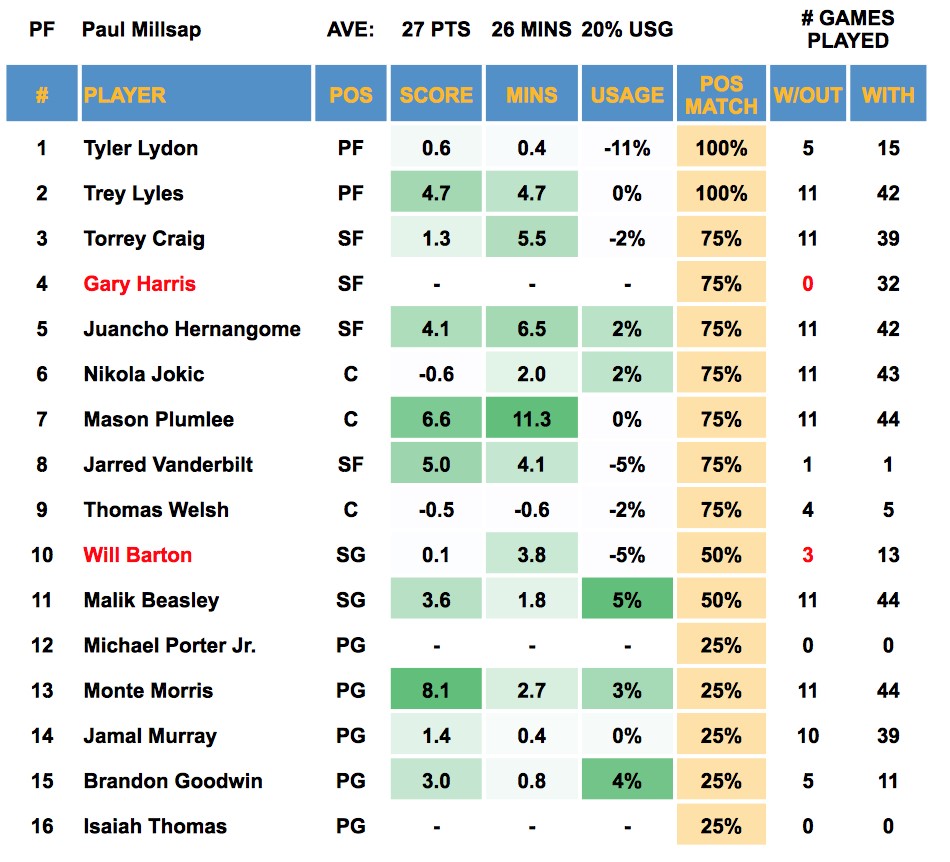 Houston
James Harden is listed as probable for the match on this slate. Haren has played a massive 37 minutes per game with a ridiculous 40% usage rate this season. If he were to miss this game it would open up a huge opportunity for his team mates, particularly Chris Paul (DS $13,710, DK $6,900) who has averaged +11 fantasy points from a 6% usage increase in the 3 games Harden has missed this season.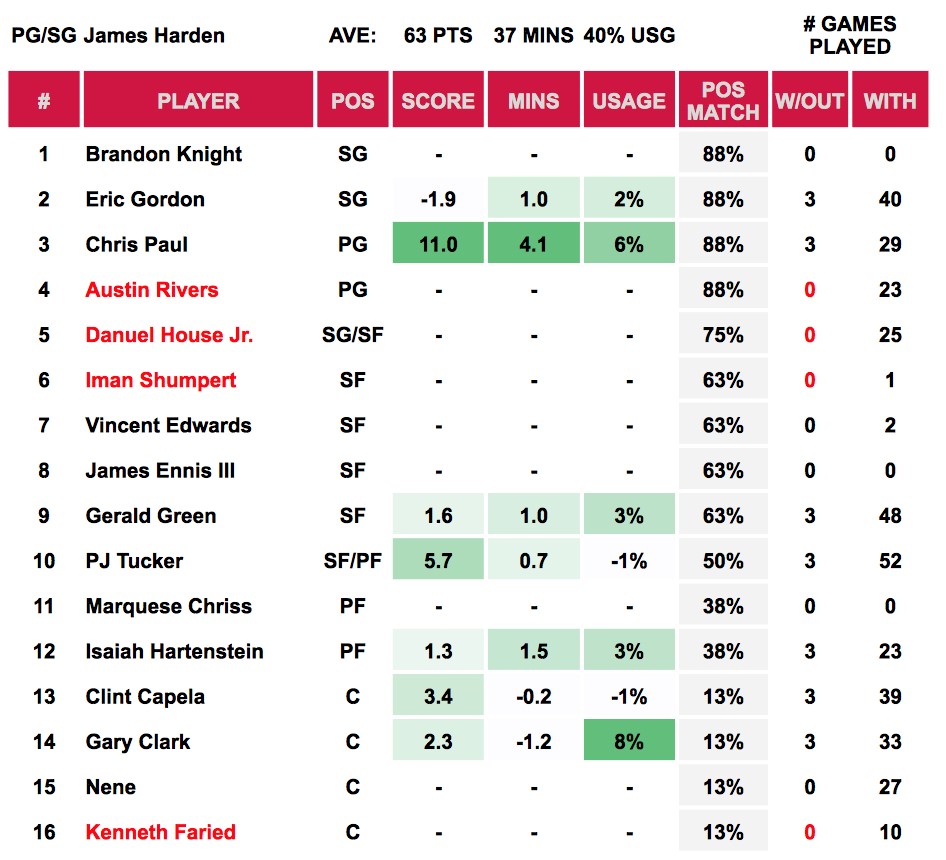 Milwaukee
Giannis Antetokounmpo has been removed from the injury report for this slate.
Minnesota
Derrick Rose and Jerryd Bayless are both questionable on this slate, while Jeff Teague is probable. Andrew Wiggins (DS $12,650, DK $6,500) has been the biggest beneficiary of the point guards being out, and he will be in play again on this slate if both Rose and Bayless are out.
Oklahoma City
Jerami Grant is out for the matchup on this slate. Patrick Patterson (DS $5,000, DK $3,300) will be a likely candidate to move into the starting lineup. However, the Thunder are likely to play a smaller lineup that includes Dennis Schroder (DS $10,100, DK $4,700) and slides Paul George to the power forward position.

VALUE
Remember to monitor injury news, particular those uncertainties noted above, as tip off gets closer as further value should open up.
Collin Sexton (DS $10,360, DK $4,900) has been the big winner at Cleveland post trade deadline. With access to a greater portion of usage Sexton has taken full advantage over the past three games averaging 35 fantasy points and showing 40 point upside.
Dion Waiters (DS $8,820, DK $4,100) has move into the starting line and is playing significant minutes over the past two games (41 and 32). He is priced far too cheap for that level of opportunity and we all know if you Dion is on the court he will be getting up shots. Today against Golden State he posted a season high 39 fantasy points.
Ivicia Zubac (DS $6,110, DK $4,000) is now the starting centre for the Los Angeles Clippers and can expect enough minutes to return value at this price point. Zubac has averaged 1.14 fantasy points per minute this year and should get 20-30 minutes for the Clippers making him a safe cash game play.
MID-PRICED
Andrew Wiggins (DS $12,650, DK $6,500) as mentioned above has been taking full advantage of the usage available with all the injuries the Timberwolves currently have at the point guard position. Wiggins has effectively been the backup point guard over the last two games and this has resulted in an average of 49 point fantasy points. He also has a pace up matchup against the Clippers on this slate.
Danilo Gallinari (DS $11,870, DK $6,000) is left with all the ownership in the starting lineup he could handle with Tobias Harris traded out at the deadline. He is priced way too cheap since coming back from injury and now looks to be returning to a usual allotment of minutes, playing 29 in the last game and returning 39 fantasy points.
Larry Nance (DS $13,050, DK $5,900) is just an absolute lock and load on this slate. He has always been a fantasy point per minute monster and has recently secured the starting centre role and playing over 30 minutes per night. Under these conditions he is closer to an $8K player and has shown this with 50 and 40 fantasy point performances from his last two games.
PREMIUM
Russell Westbrook (DS $22,090, DK $11,400) will be popular on this slate and rightfully so. It isn't because they are in the top game total of the slate either. Rather it is due to the simple fact that he has tied Wilt Chamberlain's record for consecutive triple doubles and on this slate has the chance to break it. That means Russ will be doing everything in his power to get a triple double, and really the question isn't whether he gets one, but how big it will be.
Andre Drummond (DS $18,710, DK $8,900) has been in scorching form lately scoring over 50 fantasy points in each of his last three games. On this slate he draws one of the top matchups in the league against Washington who have conceded the most points in the league to centres over the last 10 games.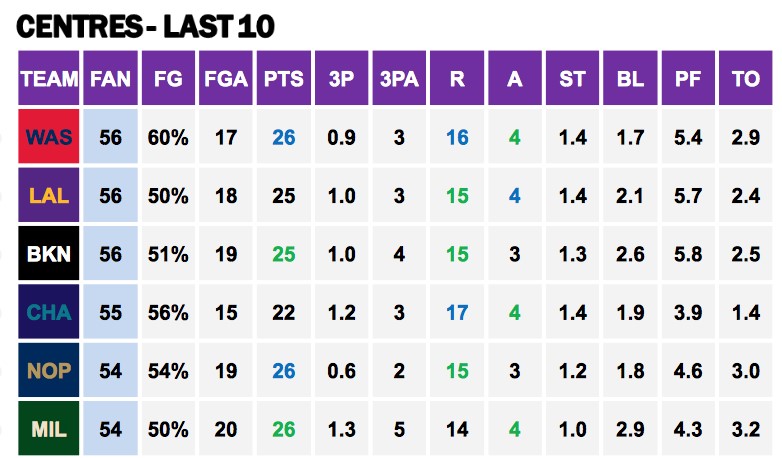 Data provided by Notorious of RotoGrinders and Daily Fantasy Rankings NBA Resources

Always remember to gamble responsibly. When the fun stops, stop. If gambling is having a negative impact on your life, seek support at Gambling Help Online. 18+ only.