daily fantasy sports articles
2018-19 NBA Daily Fantasy Tips for Thursday, 31st January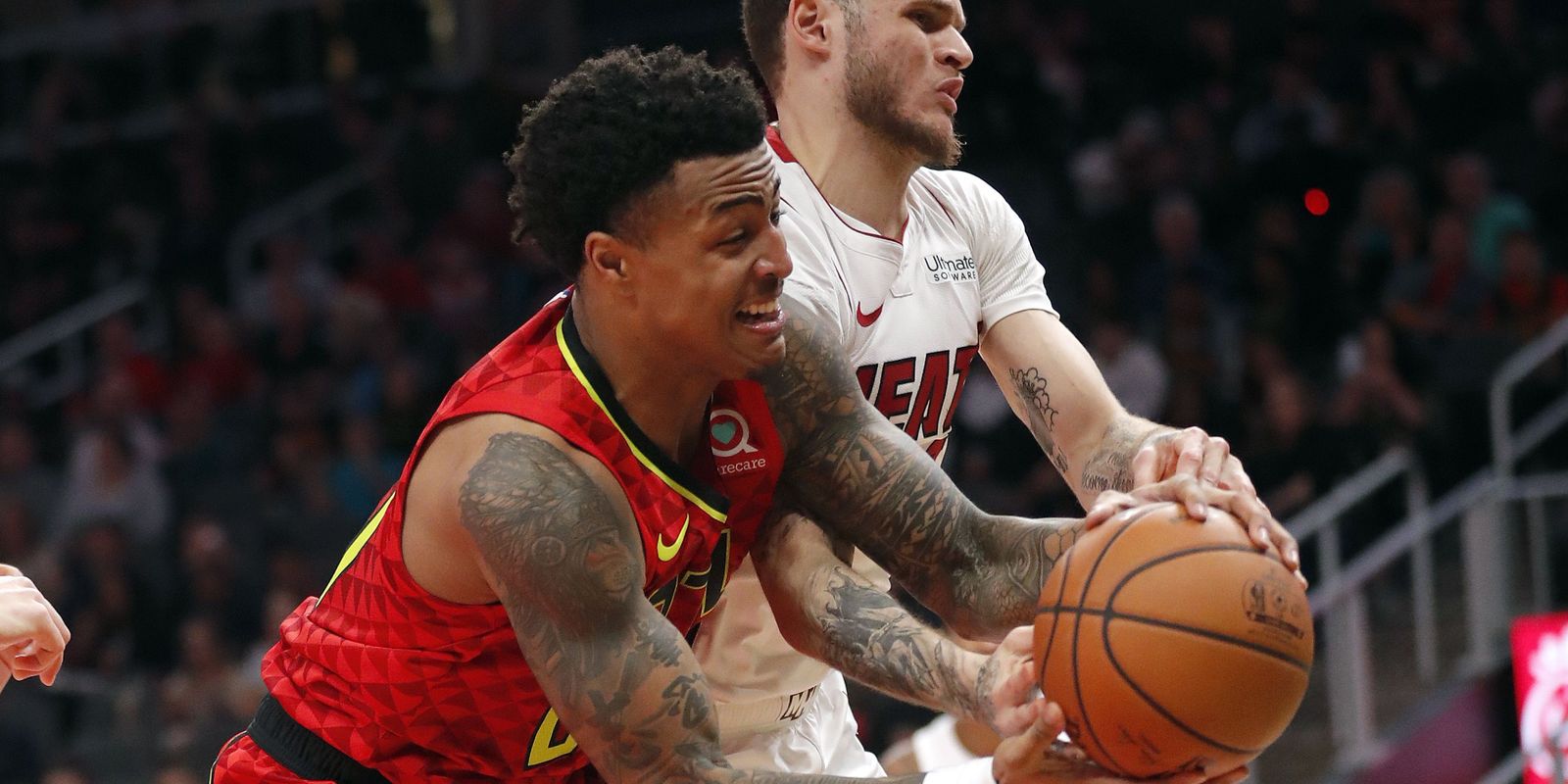 NBA Wednesday (Thursday AEST) brings a very manageable 8 game slate. The usual major DFS tournaments are on offer:
We have broken down the matchups and highlighted the key plays to help you build winning lineups. For more insight into how to utilise our game breakdown data check out our NBA DFS Training Camp Series:
Part 1 – Betting Lines and Totals
Part 2 – Matchup Analysis – Pace and Defense vs Position
Part 3 – Key Statistics in Daily Fantasy Basketball
Part 4 – Trade Analysis – Breaking Down the Jimmy Butler Trade
Part 5 – DraftKings Sharpshooter Winning Lineup Recap
Part 6 – Adjusting for Line-up News
Have you seen our new NBA DFS Cheat Sheets? We have added even more information for you to see at a glance, including pace numbers, last 5 scores per player and a new Slate Overview section, which brings you projected pace, projected fantasy score totals and Vegas lines and totals for every team on the slate. The perfect accompaniment to our regular previews and a great starting place for the days we don't cover!
GAME BREAKDOWN

The stand out matchup on this slate is Atlanta Hawks at Sacramento Kings with a massive game total of 235 points. This match is 8 points above the second highest game on the slate and features the two fastest teams in the league this season. In other words it is a DFS players fantasy.
The next highest total on this slate is Denver Nuggets at New Orleans Pelicans. The Pelicans have been a top target all season playing the 5th fastest pace while being ranked 26th in defensive efficiency. There is blowout potential in this matchup however with a line of 8.5 points, the Pelicans on the second leg of a back to back and being decimated by injury.
Two games are yet to have totals or lines set as we await injury news, neither would factor into the top end of the game totals. We break down the impact of potential injuries below.

No surprise to see Sacramento and Atlanta in the two top pace up matchups on the slate. Both teams have positive implied points totals compared to their season average with the Kings at +7.3 points and Atlanta +4.8 points. There is no doubt this game will be a popular target, the key will be to find other spots to attack around this game to get off the ownership.
Injury News
Major injury news that could impact this slate includes:
Boston
Kyrie Irving isn't expected to play against Charlotte on this slate. Terry Rozier (DS $9,830, DK $6,100) is the obvious beneficiary when Irving is out, moving into the starting lineup and averaging +12.7 fantasy points from an extra 8.3 minutes of playing time in the 8 games Kyrie has missed this season. Marcus Smart (DS $10,000, DK $5,200) and Jaylen Brown (DS $8,920, DK $4,700) have also seen an increase in fantasy output when Irving is out this season: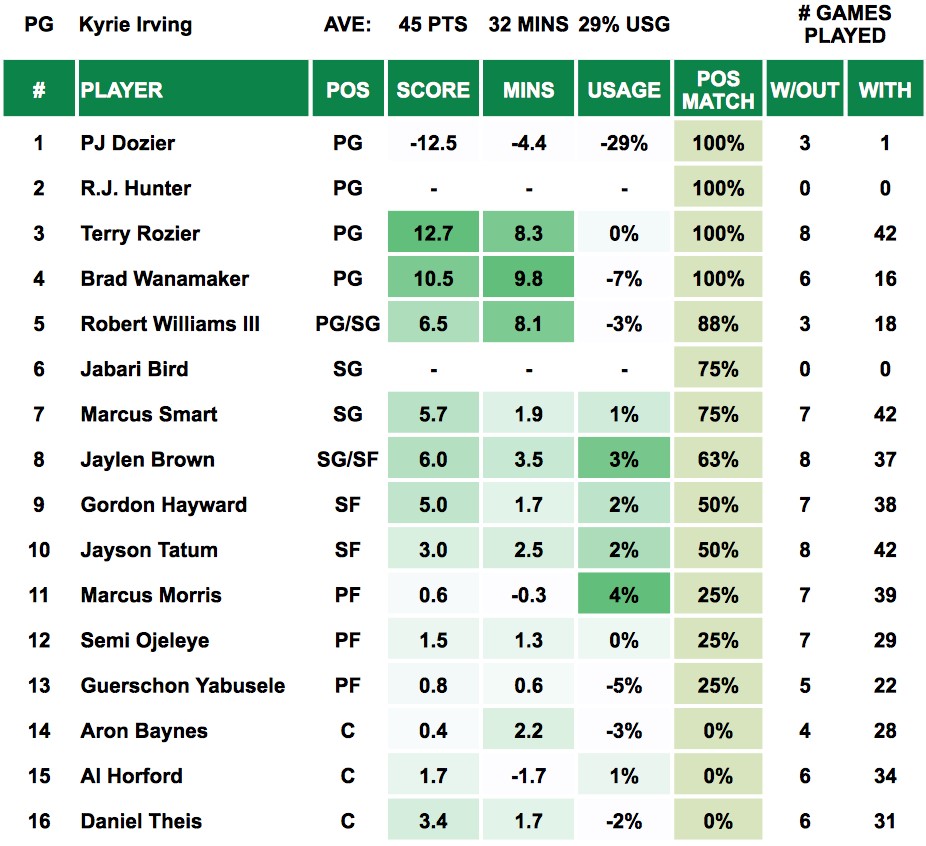 Denver
Jamal Murray will sit out against the Pelicans. In the two games Murray has missed this season it has been Nikola Jokic (DS $19,800, DK $10,900) who has been the biggest beneficiary averaging +9.5 fantasy points from a 5% usage increase. Torrey Craig (DS $7,780, DK $4,400) gets a significant minutes boost of +5.3, which has resulted in +8.2 fantasy points per game.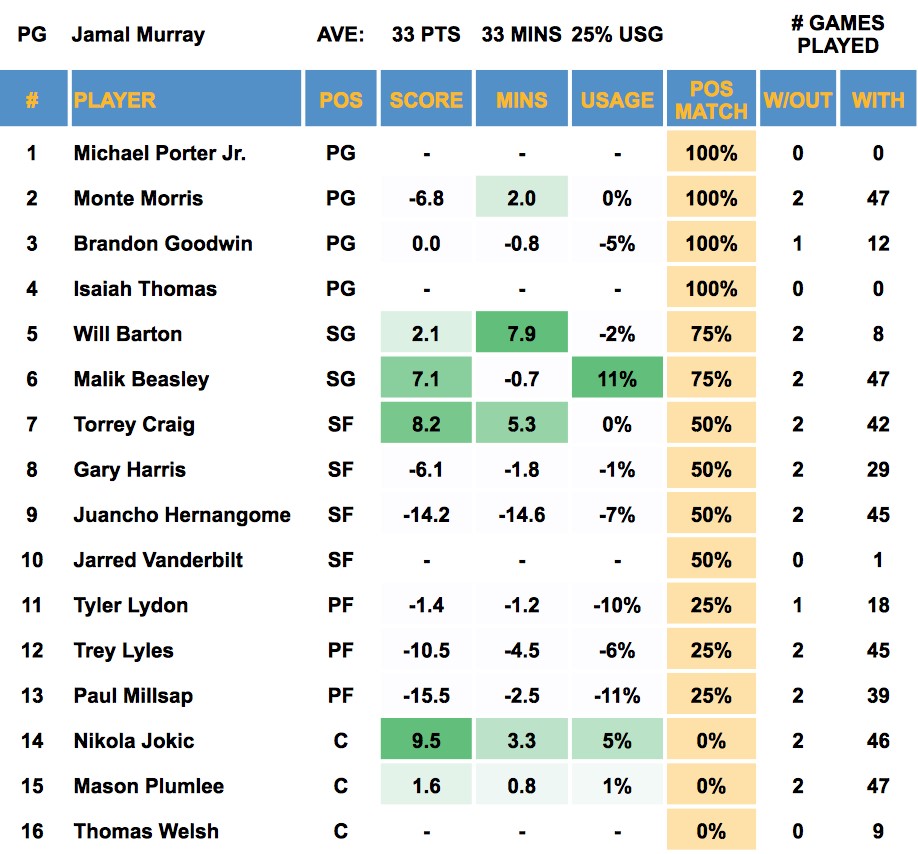 Minnesota
Jeff Teague is out for the match on this slate while Derrick Rose remains questionable. With both players off the court it has been Andrew Wiggins (DS $13,000, DK $6,500) who has been the biggest beneficiary receiving a 6.6% usage increase and averaging a whopping +12.4 fantasy points per 36 minutes. Meanwhile Jerryd Bayless (DS $10,200, DK $5,000) will receive the biggest minutes increase moving into the starting lineup.
If it is just Jeff Teague out Derrick Rose (DS $11,060, DK $5,900) will become an elite play.

VALUE
Remember to monitor injury news, particular those uncertainties noted above, as tip off gets closer as further value should open up.
Jaylen Brown (DS $8,920, DK $4,700) as noted above has been a beneficiary when Kyrie Irving is out this season. On this slate he also draws a strong matchup against Charlotte who have given up the fourth most points to point guards this year.
Nemanja Bjelica (DS $8,800, DK $4,200) is a pure punt play for tournaments ONLY! His minutes are all over the place and more likely will be on the low end, but this as noted in the game breakdowns this is the matchup of the slate and Bjelica can get left in games if he gets hot, just two game ago he played 33 minutes and 44 fantasy. High risk high reward and you can expect low ownership given his inconsistent playing time.
Darius Miller (DS $7,280, DK $3,800) has yet to see a price increase despite playing just under 40 minutes a night with the Pelicans entire roster on the injury list. In the last three games he has averaged 28 fantasy points per game, significant value at this price point.
MID-PRICED
Bogdan Bogdanovic (DS $10,500, DK $5,500) has been my money man all year. People have slowly come around but he has disappointed in his last two games so this might be the perfect spot to play him at lower ownership than other players in this matchup. He effectively runs the point when he comes in and the Hawks have given up the most fantasy points to point guards over the last 10 games.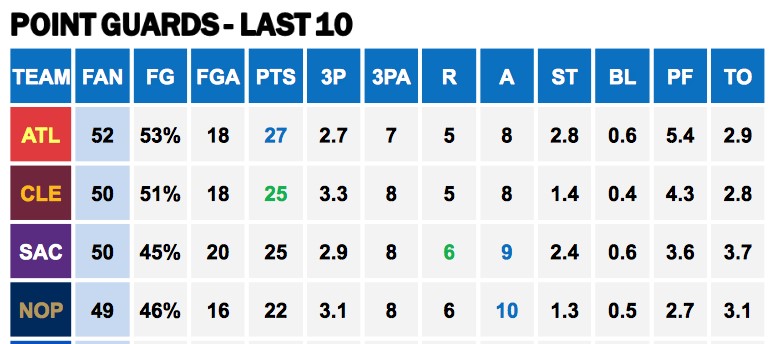 Paul Millsap (DS $10,680, DK $5,000) is another player I like for tournaments. After two down games he most likely will go under owned but is in one of the top matchups of the slate against the Pelicans who have given up the 4th most fantasy points this season. The up tempo pace should give Millsap the opportunity to pick up steals and blocks.
Buddy Hield (DS $13,390, DK $7,200) is where I will be looking at getting more exposure to this dream matchup. Hield brings over 50 point upside and this is the game where he could flash that with the Hawks giving up the most points in the league to shooting guards over the last 10 games.

PREMIUM
Nikola Jokic (DS $19,800, DK $10,900) will have all the usage in the world without Murray playing on this slate and draws a dream matchup against the Pelicans who play at one of the fastest paces in the league. From a micro matchup perspective Jokic will be matched up against Jahlil Okafor who, while he is having a resurgence on the offensive end, is an abysmal defender.
The Pelicans have given up the fourth most points in the league to centres over the last 10 games.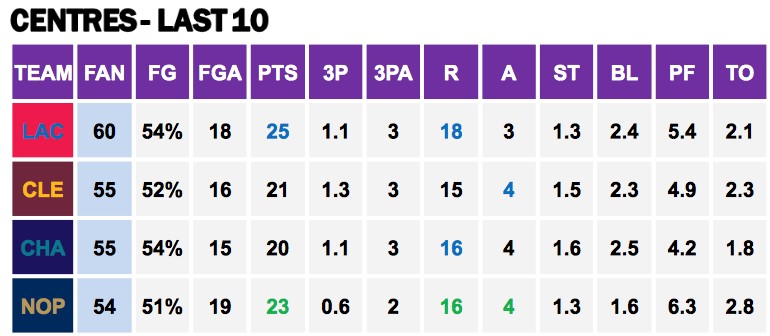 John Collins (DS $13,670, DK $7,900) will be my exposure to the Atlanta side of this game. This matchup has been discussed all throughout the above and what makes it even better for Collins is the Kings have given up the most points in the league this year to power forwards. Lock and LOAD!
Data provided by Notorious of RotoGrinders and Daily Fantasy Rankings NBA Resources



Always remember to gamble responsibly. When the fun stops, stop. If gambling is having a negative impact on your life, seek support at Gambling Help Online. 18+ only.