daily fantasy sports reviews
dfs review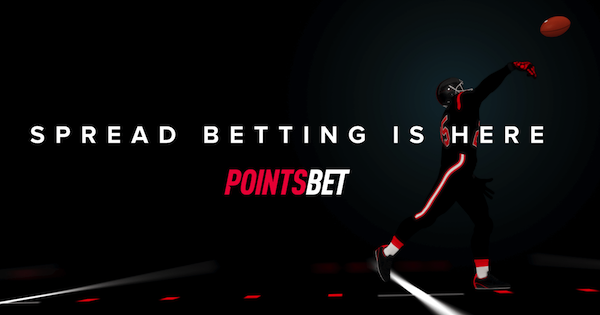 join now
Pointsbet
Pointsbet are the pioneers of spread betting in Australia! Learn more about spread betting right here in our Pointsbet review.
Pointsbet Review
Brand new Australian betting company Pointsbet have successfully launched spread betting to Aussie punters for the first time. Spread betting adds excitement to even the dullest of games and allows us to ride every point, stat or score until the last minute of any game. Read on for a full review of the Pointsbet site and to learn a little more about spread betting in general.
When you arrive at the Pointsbet homepage, you'll be greeted by a standard promo banner page as well as some handy info on how spread betting works and how to sign up for an account. You can do so easily by selecting the 'Sign Up' button in the top left corner of the page and from there, signing up is as simple as any other sports book.
Deposits and withdrawals can be made via credit card and bank transfer but for the more experienced punters who could see themselves betting a lot with Pointsbet, they also have the option to open a credit line for your account.
Before or after you create an account, you can peruse the wide range of sporting markets that Pointsbet offers by clicking the menu icon in the top left hand corner. Pointsbet offers spread betting markets in a range of different sports including AFL, NRL, NBA, NFL, Soccer and Cricket just to name a few.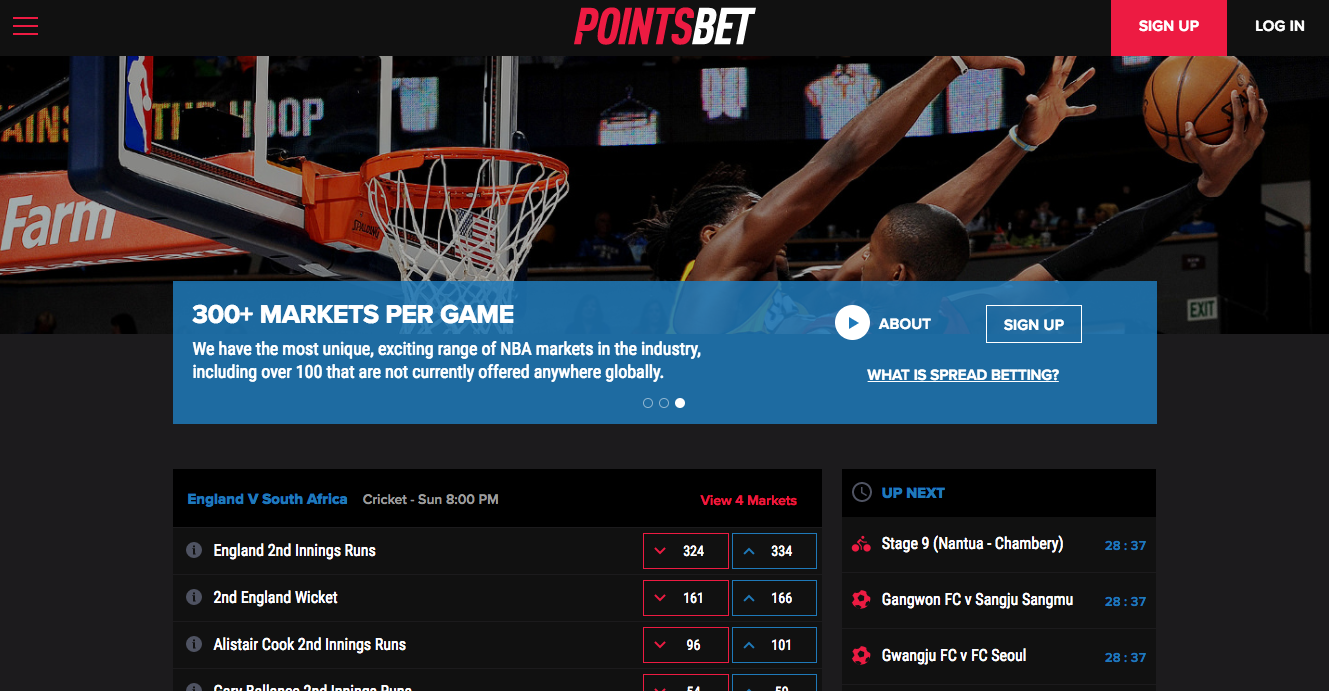 Pointsbet have also recelty addded fixed betting racing markets to their site, making it a hybrid sports betting agency. They offer some great cash back promos for AFL, NRL and horse racing on major metro race meets (more info below).
A massive positive that Pointsbet have introduced recently is the ability to stake as little as 50c on different markets. Previously, the minimum was $1 and for punters just wanting to have a casual bet, most of the markets provided way too much risk at $1 per unit.
Spread betting is tricky to wrap your head around at first, but when get the hang of it, it's arguably one of the most fun, and (sometimes) profitable, types of betting! For every market, Pointsbet will nominate a "spread". It's your job to determine whether the stat or unit of measurement in the game will be higher or lower than the spread offered. If you pick correctly, you'll win your stake multiplied by the number of points the result was over/under the spread! So a winning result can be quite profitable! The catch is that if you take the wrong side then you'll lose your stake multiplied by the points difference. So the swings in spread betting can be pretty dramatic. But, of course, you can set a maximum exposure or loss within this.
Spread betting can be risky at times and we encourage you to make sure you fully understand the way it works before creating an account with Pointsbet and having a crack at it. But if you are a seasoned punter and already have a handle on it, then we definitely recommend Pointsbet as it makes even the most boring of sports, immensely fun to watch.
Pointsbet Overview
* New and exciting spread betting format, first of its kind in Australia
* Great cash back promos on racing and sport
* Easy to deposit/withdraw
* Great customer service
Editor's note: Take care when signing up to new sports betting agencies. Be sure to read all terms and conditions of any bonus offers, deposit/withdrawal requirements and identification verification on each respective site, as some of the information on this page may be outdated. Daily Fantasy Rankings will do their best to keep this page up to date, but takes no responsibility for any information on this page being incorrect.
Always remember to Gamble Responsibly.